 Chardonnay Reserva
Casablanca Valley, Terra Noble, 2018
In stock
Article nr. 17010718
| | |
| --- | --- |
| Grape variety: | Chardonnay |
| Producer: | Viñedos Terranoble |
| Origin: | Chile / Aconcagua / Casablanca |
Description
Golden yellow with brilliant green tinge. After aeration this Chardonnay develops fine hazelnut notes mixed with the exotic: pineapple, mango, guava and passion fruit. On palate a nice balance of fruit and a creamy, almost honeyed, structure. Beautiful intense aromatic persistence with a nice fresh finish, with an interesting contrast of lime and ginger.
Attributes
| | |
| --- | --- |
| Origin: | Chile / Aconcagua / Casablanca |
| Grape variety: | Chardonnay |
| Maturity: | 1 to 3 years |
| Serving temperature: | 10 to 12 °C |
| Drinking suggestion: | Vegetable dip, Apéro riche, Hot Asian dishes, Grilled fish |
| Vinification: | partly destemmed, soft pressing, partial whole grape fermentation, fermentation at low temperatures |
| Maturation: | in steel tank, on the yeast, partly in wooden barrel/foudre |
| Maturation duration: | 3 months |
| Volume: | 13.5 % |
Countries
Chile
Chile – Where fortune came from tragedy
Wine-growing in Chile was born less out of economic reasons than lifestyle. Like the rest of the world, its aristocratic landowners admired everything that came out of France. They imitated French culture, built their haciendas in French architectural styles, and took trips to France. In 1851, the first French vines were brought back and formed the basis for producing quality wines.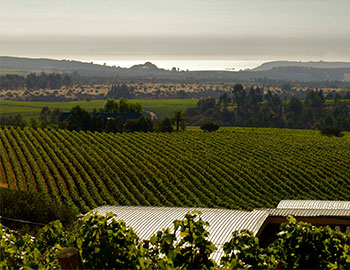 Regions
Aconcagua
Aconcagua Valley: an alpine, Bordeaux feeling
The valley gets its name from the highest mountain in the western hemisphere, the 6,962-metre-high Aconcagua. The shimmering white peak, which is actually on Argentinian soil, can be easily seen from the vineyards. In a moderate Mediterranean climate with cool breezes, Bordeaux varieties in particular yield fully concentrated yet always well-structured crus. The vineyards, variously aligned along the valley flanks, bring subtle terroir differences into the glass.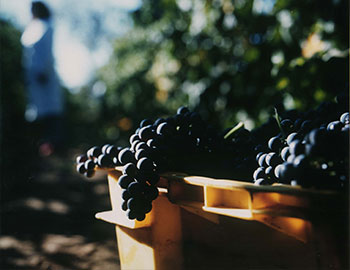 Producers
Viñedos Terranoble
Soon after their arrival, the first Spanish colonists were already remarking the ideal vine growing conditions in Chile. In this country of great contrasts, embedded between the Andes and the Pacific Ocean, the many wine regions differ significantly through micro-climate, topography and altitudes, and geological properties. TerraNoble owns vineyards in three different regions and so can provide different varieties with the most suitable growing conditions.
The big estate La Higuera stands in the Maule valley, in the southern part of the Central valley, some 250 Km from the capital Santiago, and cultivates a wide range of grape varieties. Further north, a Mediterranean climate nurses the Colchagua Valley which fits particularly well to the needs of the Cabernet Sauvignon, the Carmenère and the Syrah grapes: in Los Lingues at the foot of the Andes where the offset temperature reaches 20°C between night and day, and in Los Cactus along the coastline. The Casablanca Valley, strongly influenced by the nearby Pacific with morning fog and little rain, is more suiting for other varieties like the Chardonnay or the Sauvignon Blanc.
Grape varieties
Chardonnay
Hardly any variety of vine shows such a broad spectrum of quality as the Chardonnay. Its wines range from faceless neutrality to breath-taking class. It is an extremely low-maintenance vine, which explains why it is grown around the world – even in places where it probably should not be. The aromas of the Chardonnay variety are not very pronounced: a bit of green apple, a little hazelnut; in warmer latitudes, also melon and exotic fruits. The wines are often defined by maturing in casks. They develop more or less subtle notes of butter, toasted bread and vanilla. The grapes achieve their highest expression in their region of origin, Burgundy. Its heart beats in the Côte de Beaune: one might think of the plant growth of Meursault or Puligny-Montrachet. With their finesse and complexity, they can survive for decades. Chardonnay also achieves first class in some Blanc-de-Blancs champagnes. It additionally yields great wines in the Burgundian Chablis, and increasingly in Australia and Chile. A simple rule of thumb for pairing with food: When butter and cream are involved, you cannot go wrong with Chardonnay.