 Sauvignon blanc
DO, Leyda Valley, Amayna, 2016
Product out of stock
Article nr. 17015716
| | |
| --- | --- |
| Grape variety: | Sauvignon Blanc |
| Producer: | Weingut Amayna / Fam. Garcés Silva |
| Origin: | Chile / Aconcagua / Leyda |
Description
A great combination of European Sauvignon blanc and exotic styles from overseas with aromas of elderflower and nettle, gooseberry and medlar, lemon balm and ginger. The intense fruit flavours are offset by a delightful mineral component, paired with a juicy acidity. A wine with a certain heaviness and appropriate finish.
Attributes
| | |
| --- | --- |
| Origin: | Chile / Aconcagua / Leyda |
| Grape variety: | Sauvignon Blanc |
| Ripening potential: | 1 to 5 years |
| Serving temperature: | 10 to 12 °C |
| Food pairing suggestion: | Mild Asian dishes, Hot Asian dishes, Goat's cheese, Calamari alla romana, Giant crevettes, grilled langoustines |
| Vinification: | fermentation in steel tank, fermentation at low temperatures |
| Harvest: | hand-picking |
| Maturation: | in steel tank, on the yeast, short cultivation |
| Volume: | 14.5 % |
| Note: | Contains sulphites |
Countries
Chile
Chile – Where fortune came from tragedy
Wine-growing in Chile was born less out of economic reasons than lifestyle. Like the rest of the world, its aristocratic landowners admired everything that came out of France. They imitated French culture, built their haciendas in French architectural styles, and took trips to France. In 1851, the first French vines were brought back and formed the basis for producing quality wines.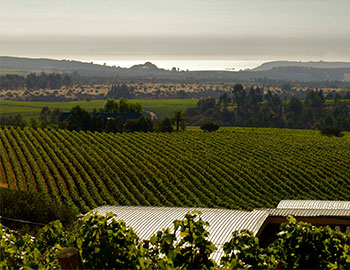 Regions
Aconcagua
Aconcagua Valley: an alpine, Bordeaux feeling
The valley gets its name from the highest mountain in the western hemisphere, the 6,962-metre-high Aconcagua. The shimmering white peak, which is actually on Argentinian soil, can be easily seen from the vineyards. In a moderate Mediterranean climate with cool breezes, Bordeaux varieties in particular yield fully concentrated yet always well-structured crus. The vineyards, variously aligned along the valley flanks, bring subtle terroir differences into the glass.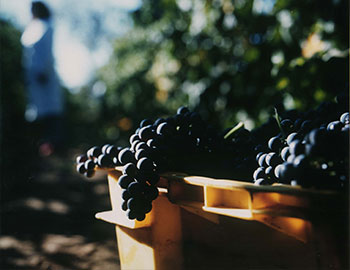 Subregions
Leyda
Leyda: small, cool, but fine
As across the whole of South America, top Chilean winemakers have opened an array of cool sites in the last 20 years, in order to produce wines with fruit-accented, elegant styles. The small Leyda Valley-San Antonio appellation was introduced in 2002. With crus that fascinate with plenty of primary fruit, it has since inspired the growing region, whose westernmost vines are almost in view of the Pacific.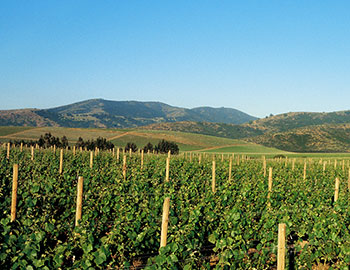 Producers
Weingut Amayna / Fam. Garcés Silva
Only a few kilometres from the wild Pacific coast and about 100 kilometres west of the capital Santiago lies the Viña Garcés Silva winery founded by José Antonio Garcés in 1997. He is one of the pioneers of this wine-growing region and has secured an international reputation for his wines which bear the euphonious name of Amayna.
Grape varieties
Sauvignon Blanc
The Sauvignon blanc can be recognized with your eyes closed. Its typical bouquet is marked by green notes: freshly cut grass, tomato bunches, gooseberry. Citrus fruits, cassis and flint join into the mix. In warmer latitudes it also shows exotic aromas, such as passion fruit. Its acidity is decidedly lively. In all likelihood, it comes from the Loire Valley, where it is vinified in Pouilly-Fumé and Sancerre in its purest form: varietally, and without timber. In the 18th century, it found its way to Bordeaux. Ambitious producers assemble it there with Sémillon into substantial whites, which are aged in oak barrels. The Sauvignon blanc has been a sensational success in the past 20 years in New Zealand. With its refreshing sweet-and-sour style, winemakers from down under have conquered the world. The rich Sauvignons from Styria and crisp examples of South Tyrol and Friuli are worth mentioning as well. It pairs with anything from the sea. Or do it like they do on the Loire, and enjoy it with goat cheese.
Epicurean profile
Rating