 Certified organic or biodynamic wine
Alsace Grand cru Mambourg
AC Grand cru Alsace, Domaine Marcel Deiss, 2015
In stock
Article nr. 11190715
| | |
| --- | --- |
| Grape variety: | Pinot gris, Pinot noir, Pinot meunier, Pinot blanc, Pinot Beurot |
| Producer: | Domaine Marcel Deiss |
| Origin: | France / Alsace |
| Other vintages: | |
Description
Powerful bouquet with aromas of yellow fruits such as pear, peach and quince. The wood is discreetly noticeable. On the palate opulent and juicy with a nice viscosity.
Attributes
| | |
| --- | --- |
| Origin: | France / Alsace |
| Grape variety: | Pinot gris, Pinot noir, Pinot meunier, Pinot blanc, Pinot Beurot |
| Ripening potential: | 5 to 20 years |
| Serving temperature: | 10 to 12 °C |
| Food pairing suggestion: | Roast veal with morel sauce, Crispy roast chicken, Spicy hard cheese |
| Harvest: | hand-picking, strict selection |
| Volume: | 13.5 % |
| Note: | Contains sulphites |
Countries
France
France – Philosophy in a bottle
According to French philosophy, wine should be an expression of the soil and climate. They use the word "terroir" to describe this. Terroir makes every wine different, and many especially good. French wine is regarded worldwide as an expression of cultural perfection. The French believe that humans are responsible for the quality of the berries, the vine variety for their character, and nature for the quantity. This philosophy can be expressed succinctly as: "the truth is the vineyard, not the man."
Regions
Alsace
The exceptional position of Alsace on the border of Germany has contributed to the fact that Alsatian wine culture contains both French and German elements. The range of grape varieties, unusual from a French perspective, is dominated by Gewürztraminer, Sylvaner and Pinot Blanc (Weissburgunder) –varieties all cultivated on the German side of the Rhine in Baden. According to the French tradition, the wines are cultivated and vinified such that they embody their respective terroirs.
Producers
Domaine Marcel Deiss
The Alsace's true heart beats in Jean-Michel Deiss' wines!
His family has lived in Bergheim since 1744. His heart beats for the real and genuine Alsatian wine. His heart rivals his humour -- a fact anyone will realise upon first meeting Jean-Michel Deiss.
Stemming from various geological eras, the region's vast geological diversity gives the wines their unmistakable character. Jean-Michel Deiss wines manage to reproduce the geology, the soil conditions, the microclimate, the fauna and the flora -- basically the respective terroir -- of each site situated in about 26 hectares of vineyards spread over 9 parishes and more than 200 individual parcels. His masterpieces, the Vins de Terroir, come into being in the premier cru and grand cru sites such as Engelgarten, Gruenspiel, Mambourg or Schoenenbourg. Primarily, the vineyard and its terroir dictate the personality, the character and the physiognomy of the wines, as Jean-Michel Deiss puts it. He even speaks of his 'humanité' with an compelling conviction...
Consequentially, the individual grape variety relinquishes the foreground. The precious vineyards have been planted in a mixed fashion, as was usual long ago. This may encompass up to 60 varieties: Riesling, pinot gris, muscat, gewuerztraminer, pinot noir, pinot beurot, auxerrois, etc. The varieties are densely planted -- 8000 to 12000 vine stocks per hectare -- to allow the wine to mirror its origin in every facet. Thus, the grapes are picked and pressed traditionally.
To transfer the uniqueness of the respective terroirs, the grounds and the vines must be cared for individually. Jean-Michel Deiss follows traditional Alsatian methods of viniculture that have been passed down through the generations. This includes the biodynamic practices he employs without immediately religionising them. His wines are certified by Biodyvin, a highly acclaimed association formed by renowned producers.
Jean-Michel Deiss' wines open a new perspective to a different, fascinating and complex world of wine. This means new wine terminologies and descriptions need to be invented. Jean-Michel Deiss teaches them...
Grape varieties
Pinot meunier
Freshness boost for champagnes
Many fine white hairs on the underside of the leaves give this red grape its name. "Meunier" translates to miller, an allusion to the impression that the plant has been dusted with freshly ground flour. Its main habitat is in Champagne. Alongside Pinot noir and Chardonnay, it forms the third component of the classic champagne cuvée. It contributes fresh acidity and youthful fruit to the sparkling wines. It is only very rarely into champagne by itself, but the few examples are worth tasting. In German, Pinot Meunier is also known as Müllerrebe or misleadingly as Schwarzriesling (black Riesling).
Pinot blanc
Lively sparkling, substantial white
The Pinot blanc has the same genetic fingerprint as Pinot gris and Pinot noir. They only differ in colour. The mutation from red to white was noted over a century ago in Burgundy. Suddenly, berries of differing colorations were hanging on the same stock. The bouquet of the Pinot blanc is fresh and floral with notes of citrus, apple, pear and apricot. In Alsace, it yields fragrant sparkling wines; it also enters into some champagnes. Vintners in Germany and Austria produce an abundance of Pinot blanc with a good deal of substance, blending and backbone. Representatives from Switzerland demonstrate a similar profile. There, the Pinot blanc grows mainly in Valais, Vaud and in Grisons.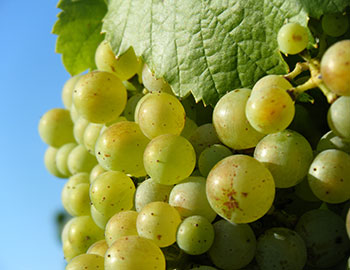 Pinot noir
No other variety expresses its terroir as precisely as Pinot noir. It is a sensitive, fragile grape. But when it succeeds, it gives the world some of its very greatest wine plants. It especially excels in Burgundy, where it has been cultivated for at least 700 years. Even in the middle ages, it was considered so precious that it was kept separate from other grapes so as to not diminish its value. The finest examples are delicate and fragrant with aromas of cherries and red berries. With maturity, notes of forest floor, leather and truffles enter as well. An irresistible fruity sweetness still shines through, even after several decades. The Pinot noir does well in cool locations: in Switzerland and in Germany, where it is known as Blauburgunder and Spätburgunder respectively; in Alsace and in South Tyrol, in Oregon, New Zealand and Tasmania. Not least, it yields fantastic champagnes. It is a wonderful culinary companion. With its soft tannins and charming bouquet, it meshes with everything, from Güggeli and cheeses to fried fish.
Pinot Beurot
Pinot gris
Pinot gris is, like the Pinot blanc, a colour mutation of Pinot noir. All three have the same genetic profile. On occasion, red, grey, pink and white, berries can be observed on the same vine stock. Some are even striped! The best Pinot grises introduce themselves opulently with ripe peach and apricot aromas, slightly woody notes and a bit of smoke. These characteristics are presented, for example, in examples from Alsace, Grauburgunders from Germany, or the representatives from Valais, where the grapes are erroneously referred to as Malvoisie. In Italy, Pinot grigio from South Tyrol and Friuli win out. Wines from this variety are great culinary companions. They get along superbly with autumnal dishes such as risotto with mushrooms or chestnuts.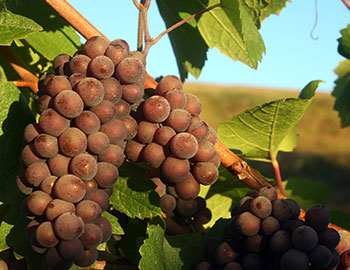 Epicurean profile