 In Vino Erotico blanc
IGP Coteaux du Libron, Alma Cersius, 2018
In stock
Article nr. 11110718
| | |
| --- | --- |
| Grape variety: | Chardonnay, Viognier, Sauvignon Blanc |
| Producer: | Alma Cersius |
| Origin: | France / Languedoc-Roussillon / Coteaux de Béziers |
Description
A pretty yellow color with gold reflections. Powerful and full of finesse, the nose reveals tropical fruits and ripe citrus fruits. Dried fruits: raisins, figs and hazelnuts, and vanilla and grilled notes announce the power and lenght.
Attributes
| | |
| --- | --- |
| Origin: | France / Languedoc-Roussillon / Coteaux de Béziers |
| Grape variety: | Chardonnay, Viognier, Sauvignon Blanc |
| Ripening potential: | 1 to 3 years |
| Serving temperature: | 10 to 12 °C |
| Food pairing suggestion: | Coq au vin, Rabbit ragout with olives, Coquilles Saint Jacques on lentils |
| Vinification: | Punching down, soft pressing |
| Harvest: | hand-picking |
| Maturation: | in steel tank, bâtonnage, partly in wooden barrel/foudre |
| Volume: | 13.5 % |
| Note: | Contains sulphites |
Countries
France
France – Philosophy in a bottle
According to French philosophy, wine should be an expression of the soil and climate. They use the word "terroir" to describe this. Terroir makes every wine different, and many especially good. French wine is regarded worldwide as an expression of cultural perfection. The French believe that humans are responsible for the quality of the berries, the vine variety for their character, and nature for the quantity. This philosophy can be expressed succinctly as: "the truth is the vineyard, not the man."
Regions
Languedoc-Roussillon
Languedoc and Roussillon: the wine-giant of the south
The largest contiguous wine region of France begins on the west bank of the Rhône River, stretching more than 240 kilometres to the west to Banyuls-sur-Mer, on the border with Spain. The area is an inexhaustible reservoir of corpulent wines from international varieties, but the top crus from this region come from various regional appellations, where long-established varieties such as Carignan and Grenache (red) and Picpoul and Bourboulenc (white) yield extraordinarily characterful wines.
Grape varieties
Viognier
It's hard to believe that the Viognier nearly became extinct 50 years ago. Today, it grows worldwide on over 10,000 hectares. The variety was first mentioned in 1781, and probably originated in Condrieu, in the northern Rhône Valley. There, and in the 3.8-hectare mini-appellation of Château-Grillet, vintners kept it on the post when the rest of the world wanted to know nothing about it. Its inventory shrank to a meagre 14 hectares. This is because it provides only low yields, and for a while there were no good seedlings. In the 1980s, interest in Viognier reawakened. It actually shows a unique profile: deep golden with good body and aromas of apricot, lime blossom, citrus fruits, honey and hazelnut. It is popular in the Languedoc region, flows into the white Côtes du Rhône and also does very well in California. The best examples fit wonderfully with poultry in cream sauce, noble fish like turbot or – why not? – lobster.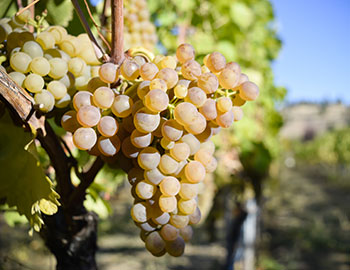 Sauvignon Blanc
The Sauvignon blanc can be recognized with your eyes closed. Its typical bouquet is marked by green notes: freshly cut grass, tomato bunches, gooseberry. Citrus fruits, cassis and flint join into the mix. In warmer latitudes it also shows exotic aromas, such as passion fruit. Its acidity is decidedly lively. In all likelihood, it comes from the Loire Valley, where it is vinified in Pouilly-Fumé and Sancerre in its purest form: varietally, and without timber. In the 18th century, it found its way to Bordeaux. Ambitious producers assemble it there with Sémillon into substantial whites, which are aged in oak barrels. The Sauvignon blanc has been a sensational success in the past 20 years in New Zealand. With its refreshing sweet-and-sour style, winemakers from down under have conquered the world. The rich Sauvignons from Styria and crisp examples of South Tyrol and Friuli are worth mentioning as well. It pairs with anything from the sea. Or do it like they do on the Loire, and enjoy it with goat cheese.
Chardonnay
Hardly any variety of vine shows such a broad spectrum of quality as the Chardonnay. Its wines range from faceless neutrality to breath-taking class. It is an extremely low-maintenance vine, which explains why it is grown around the world – even in places where it probably should not be. The aromas of the Chardonnay variety are not very pronounced: a bit of green apple, a little hazelnut; in warmer latitudes, also melon and exotic fruits. The wines are often defined by maturing in casks. They develop more or less subtle notes of butter, toasted bread and vanilla. The grapes achieve their highest expression in their region of origin, Burgundy. Its heart beats in the Côte de Beaune: one might think of the plant growth of Meursault or Puligny-Montrachet. With their finesse and complexity, they can survive for decades. Chardonnay also achieves first class in some Blanc-de-Blancs champagnes. It additionally yields great wines in the Burgundian Chablis, and increasingly in Australia and Chile. A simple rule of thumb for pairing with food: When butter and cream are involved, you cannot go wrong with Chardonnay.