 Weissburgunder Verena 2018
DOC Südtirol, Nicolussi-Leck, 750 ml
750 ml
Selection Baur au Lac Vins
30
Gift box available!
In stock
Article nr. 12088718
Gift box available!
Description
The Weissburgunder Verena exudes a scent of ripe apple, vineyard peach and pineapple. A floral and herbal scent accompanies the fruity bouquet. Already the first sip offers a lot of drinking pleasure! The Weissburgunder presents itself with a beautiful creaminess and a balanced fruit-acid interplay. The aroma again shows yellow fruity flavours, accompanied by citrus components.
Attributes
| | |
| --- | --- |
| Origin: | Italy / Alto Adige / Alto Adige |
| Grape variety: | Pinot blanc |
| Label: | Vegan |
| Ripening potential: | 1 to 5 years |
| Serving temperature: | 10 to 12 °C |
| Food pairing suggestion: | Grilled fish, Succulent chicken breast with cream sauc, Risotto ai frutti di mare, Seafood salad, Salad with vegetables, pulses, pasta, Asparagus specialities |
| Vinification: | fermentation in wooden barrel, fermentation in steel tank, pressing the whole grape |
| Harvest: | hand-picking, strict selection, in small boxes |
| Maturation: | partly in steel tank, partly in wooden barrel/foudre |
| Maturation duration: | 10 months |
| Volume: | 14.0 % |
| Note: | Contains sulphites |
Producer
Weingut Nicolussi-Leck
The Kreithof, as the ancestral estate is known, is located near the idyllic Lake Caldaro in South Tyrol (Alto Adige) and has been cultivated by the Nicolussi-Leck family since 1915. Standing guard over it are the medieval ruins of Leuchtenburg Castle, which – like the estate – dates back to the 13th century and was presumably also associated with nearby Laimburg Castle in the Etsch Valley.
Today, the winery is run by Jakob Nicolussi and his wife Stephanie with his parents' support. Around 5 hectares lie between the lake and Leuchtenburg. There are east, south and west-facing slopes at about 350 metres above sea level, some with a gradient of up to 40% and warm, loamy soils and the porphyry rock of Mitterberg mountain. Each vineyard or plot of land has its own unique microclimate and soil composition that distinguish it from the others. This diversity was used to select the ideal location for each grape variety.
Grape variety
Pinot blanc
Lively sparkling, substantial white
The Pinot blanc has the same genetic fingerprint as Pinot gris and Pinot noir. They only differ in colour. The mutation from red to white was noted over a century ago in Burgundy. Suddenly, berries of differing colorations were hanging on the same stock. The bouquet of the Pinot blanc is fresh and floral with notes of citrus, apple, pear and apricot. In Alsace, it yields fragrant sparkling wines; it also enters into some champagnes. Vintners in Germany and Austria produce an abundance of Pinot blanc with a good deal of substance, blending and backbone. Representatives from Switzerland demonstrate a similar profile. There, the Pinot blanc grows mainly in Valais, Vaud and in Grisons.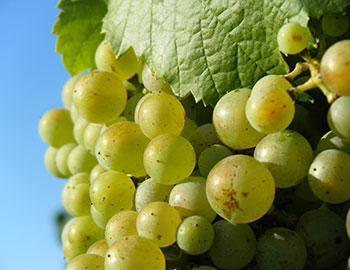 Subregion
Alto Adige
Alto Adige: Alpenweine mit südlichem Charme
Am Alpenübergang gelegen verfügt das Südtirol über eine grosse Palette an Mirkroklimata und Bodentypen. Dies macht es möglich, dass hier über 20 verschiedene Sorten optimale Bedingungen vorfinden. Vernatsch, Lagrein und Gewürztraminer gelten als alteingesessene Südtiroler Gewächse, doch auch die Familie der Burgundergewächse finden hier ideale Bedingungen vor. In wichtigen Weinführern wie etwa dem «Gambero Rosso» erhält das Südtirol regelmässig die meisten Höchstbewertungen («Tre Bicchieri») im Verhältnis zur Rebfläche in ganz Italien.
Country
Italy
Italy – Where wine is a way of life
The Italian wine regions are extremely diverse, and this is made clear in their wines. Established varieties such as Merlot, Syrah, and Sauvignon can be found on just 15 percent of the total vine growing area. The remaining 85 percent is reserved for autochthonous, indigenous varieties. More than 2,000 different grape varieties are grown under diverse conditions and pressed with various techniques into wines that reach the top tier of the international wine market.
Epicurean profile