Arneis delle Langhe 2021
DOC Langhe, Rocche Costamagna, 750 ml
Exclusivity Baur au Lac Vins
Gift box available!
In stock
Article nr. 12038721
Items available in the stores
Gift box available!
Description
The Roero Arneis variety, which is almost exclusively native to Piedmont, presents itself beguilingly, fresh, floral and elegant in the glass! It is also affectionately called "Barolo Bianco". After a little aeration, the aroma becomes spicier, reminiscent of freshly cut lemon balm, and at the same time a little sweeter, exuding a fine honey-almond note. On the palate, the autochthonous grape variety shows itself powerful and with yellow-fruity aromas reminiscent of ripe peaches.
---
A product of the Marc Almert Selection IV
With the Marc Almert Selection, the ASI Best Sommelier of the World 2019, presents you a personally compiled selection of wines that not only touch his palate, but also his heart.
---
Marc Almert about the Arneis delle Langhe
As an apprentice, I once travelled to Piedmont with my father. The head sommelière of my apprenticeship year provided us with recommendations for impressive wineries that produced Nebbiolo, probably the noblest grape in Piedmont (see, for example, La Ginestra on page 31). However, the trip took place in the midst of Summer, and accordingly we also craved white wine. Cortese could only inspire us to a limited extent, but Arneis directly appealed to all of us. Always refreshing, characterised by herbal notes and very structured and balanced on the palate, this grape from the shores of Roero makes an delightful white wine. We at Baur au Lac Vins have been working with Alessandro Locatelli from Rocche Costamagna for over three decades now, and anyone who tastes this Arneis or his reds will quickly understand why.
Attributes
| | |
| --- | --- |
| Origin: | Italy / Piemont / Langhe |
| Grape variety: | Arneis |
| Label: | Vegan |
| Ripening potential: | 1 to 3 years |
| Drinking temperature: | 10 to 12 °C |
| Food Pairing: | Italian antipasti, Apéro pastries, Asparagus specialities |
| Vinification: | fermentation in steel tank, soft pressing |
| Harvest: | hand-picking |
| Volume: | 14.0 % |
| Note: | Contains sulphites |
Producer
Rocche Costamagna / Alessandro Locatelli
The wines of Rocche-Costamagna are a result of the perfect interplay of geographical location, meticulous care both in the vineyard and in the cellar, and decades of experience.
The term "Rocche" usually refers to a natural hilly landscape. In this case, it refers to a privileged wine-growing area, the family's historic cru, called "Rocche dell'Annunziata" (covering 6 of the 14 hectares of the family estate).
"Costamagna" is the family name of the winery owners in La Morra, where high quality wines have been produced and distributed for over 160 years. The evidence for this centuries-old tradition is a document dating back to 1841: a retail licence for the wines from the estate's own vineyards. Since the late 1960s, the business has been run by Claudia Ferraresi, the granddaughter of the widow Costamagna, accompanied by her husband Giorgio. Today, their son Alessandro Locatelli is in charge, assisted by agronomist Gian Piero Romana and oenologist Giuseppe Caviola.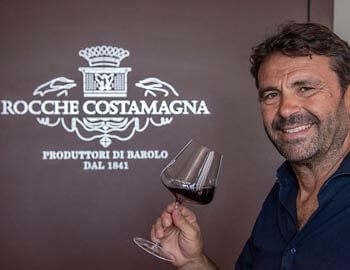 Grape variety
Arneis
There is a nice story behind the name of the Arneis. In the dialect of its home, Piedmont, the word "arnèis" refers to a lively personality who is not easy to get along with. The same applies to the grape variety: to elicit the best from them, you have to know how to tackle them, or else they do not show much personality. For a long time, few were capable – so few that the Arneis nearly died out in the 1970s. Today, it is experiencing a flourishing renaissance, primarily in the Roero and Langhe regions. Ideally, it yields intense white wine with the aroma of ripe pears, subtle acidity and a round mouthfeel. They taste best when young. A great choice for vitello tonnato.
Country
Italy
Italy – Where wine is a way of life
The Italian wine regions are extremely diverse, and this is made clear in their wines. Established varieties such as Merlot, Syrah, and Sauvignon can be found on just 15 percent of the total vine growing area. The remaining 85 percent is reserved for autochthonous, indigenous varieties. More than 2,000 different grape varieties are grown under diverse conditions and pressed with various techniques into wines that reach the top tier of the international wine market.
Epicurean profile