 Viura/Chardonnay
DO Navarra, Vega Sindoa, 2016
750 ml
Selection Baur au Lac Vins
30
In stock
Article nr. 13004716
Description
A fine fruity and well structured wine with scents of exotic citrus fruits of Viura and caramel, butter and elderflower of Chardonnay grape. On the palate it presents itself rich in extracts and fullbodied. Paradoxically, it has a delicate, elegant fruity note and a racy-spicy aftertaste.
Attributes
| | |
| --- | --- |
| Origin: | Spanien / Navarra |
| Grape variety: | Viura, Chardonnay |
| Ripening potential: | 1 to 3 years |
| Serving temperature: | 10 to 12 °C |
| Food pairing suggestion: | Italian antipasti, Whole baked fish, Saltimbocca |
| Vinification: | fermentation in steel tank, soft pressing, fermentation at low temperatures |
| Maturation: | in steel tank |
| Bottling: | filtration |
| Volume: | 12.5 % |
| Note: | Contains sulphites |
Countries
Spain
Spain – Variety and perfection
"Somewhere in la Mancha, in a place whose name I do not care to remember...," begins Don Quixote's odyssey.
The most famous part is definitely when Don Quixote thinks windmills are his enemy and wants to fight them – until they nearly kill him. It's possible there was a bit too much of the La Mancha wine at play. Spanish vines fight for their survival in rugged landscapes, battling fierce drought and rough soils. But they fight well.
Regions
Navarra
Navarre: a land of many terroirs
Until 1841, Navarre was an independent kingdom with a rich wine culture. Thanks to varying soil types and equally diverse climatic influences, Navarra has an amazing array of wines. The spectrum ranges from substantial Chardonnays to drinkable rosés to red wines, where international varieties such as Cabernet Sauvignon and Merlot often set the tone along with Tempranillo and Garnacha. Exquisite sweet wines from Moscatel grapes are also vinified here.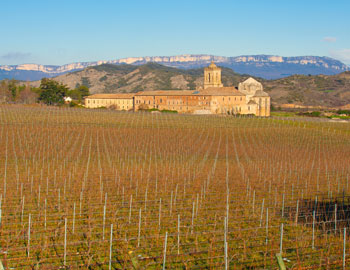 Producers
Bodegas Vega Sindoa
The vineyards for the Vega Sindoa wines are in the heart of Navarre, in the Valle de Nekeas, the valley where the wine lives, as the locals say. The 6th leg of the pilgrim's path to Santiago de Compostela leads through this charming hilly landscape, where wine has been grown for centuries.
In this area, protected to the north by the Pyrenees, a wide variety of vines – Chardonnay, Viura, Moscatel, Viognier, Tempranillo, Cabernet, Merlot, Garnacha, Syrah and Malbec – enjoy superb climactic and soil conditions. The climate is shaped both by the Atlantic Ocean and the Mediterranean Sea. The vineyards are situated at altitudes between 450 and 650 metres above sea level, with varying orientations and on very different soils. This wide variety of factors helps to ensure that the individual grape varieties are planted to grow in perfect harmony with their environment.
Grape varieties
Viura
For fruity cava and white Rioja
Still or sparkling: the Macabeo can do both. In its native Catalonia, it forms, with Parellada and Xarello, the triumvirate of cava grapes. It gives the sparkling wine its fresh apple fruit; the Parellada provides elegance, and the Xarello contributes body and fullness. Pressed as a still white wine, the Macabeo smells of apple, pear, flowers and herbs. A light almond note often comes as well. This can be tasted in the classic white wines from Rioja: they are made from this variety, which there is called Viura. The Macabeo – also spelled Macabeu – migrated from northern Spain across the border into French Roussillon.
Chardonnay
Hardly any variety of vine shows such a broad spectrum of quality as the Chardonnay. Its wines range from faceless neutrality to breath-taking class. It is an extremely low-maintenance vine, which explains why it is grown around the world – even in places where it probably should not be. The aromas of the Chardonnay variety are not very pronounced: a bit of green apple, a little hazelnut; in warmer latitudes, also melon and exotic fruits. The wines are often defined by maturing in casks. They develop more or less subtle notes of butter, toasted bread and vanilla. The grapes achieve their highest expression in their region of origin, Burgundy. Its heart beats in the Côte de Beaune: one might think of the plant growth of Meursault or Puligny-Montrachet. With their finesse and complexity, they can survive for decades. Chardonnay also achieves first class in some Blanc-de-Blancs champagnes. It additionally yields great wines in the Burgundian Chablis, and increasingly in Australia and Chile. A simple rule of thumb for pairing with food: When butter and cream are involved, you cannot go wrong with Chardonnay.