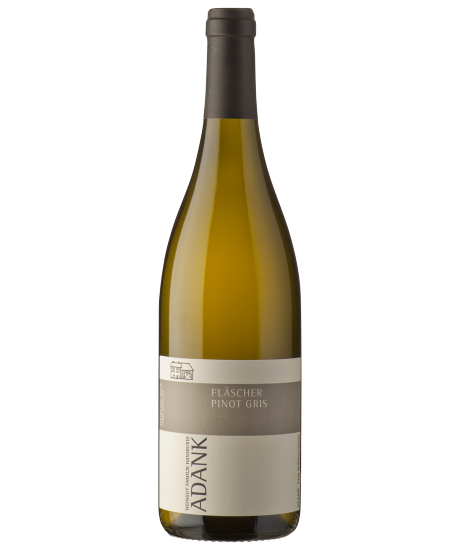 Certified integrated production
Fläscher Pinot Gris
AOC Graubünden, Weingut Hansruedi Adank, 2018
In stock
Article nr. 10143718
| | |
| --- | --- |
| Grape variety: | Pinot gris |
| Producer: | Hansruedi Adank |
| Origin: | Switzerland / Ostschweiz / Graubünden |
Description
Intense and multi-facetted nose, reminiscent of vanilla from the bakery and at the same time exudes lush aromas of cherries, guavas and mango. From the very first sip, one senses the creamy texture with tightly interwoven fruit aromas, complemented by an exciting mineral component reminiscent of flintstone. A high extract, the juicy acidity and softness give this pure Pinot Gris a lot of power and richness. A grape variety typical astringency resonates in the aftertaste.
Attributes
| | |
| --- | --- |
| Origin: | Switzerland / Ostschweiz / Graubünden |
| Grape variety: | Pinot gris |
| Ripening potential: | 1 to 5 years |
| Serving temperature: | 10 to 14 °C |
| Food pairing suggestion: | Fresh water fish with cream sauce, Fish terrine, Cheese board, Hearty stew with pulses |
| Vinification: | long must fermentation, fermentation in steel tank, fermentation at low temperatures |
| Harvest: | hand-picking |
| Maturation: | partly in steel tank, partly in wooden barrel/foudre |
| Bottling: | filtration |
| Maturation duration: | 7 months |
| Volume: | 14.0 % |
| Note: | Contains sulphites |
Countries
Switzerland
Switzerland – A small country with enormous diversity
Switzerland is famous for its banks, watches, and cheese, but not necessarily for its wine. The Swiss didn't invent wine, but they have been extremely open and curious to it. Wine culture arrived in what is now modern Switzerland via several routes: from Marseilles to Lake Geneva and the Lower Valais region; from the Aosta Valley through the Great St. Bernard Pass to the rest of Valais; from the Rhone through Burgundy, across the Jura Mountains to Lake Constance; and from Lombardy to Ticino, and then on to Grisons.
Regions
Ostschweiz
Eastern Switzerland: an intriguing puzzle
Eastern Switzerland has long been positioned on the northern rim of the climate zone where the cultivation of popular Swiss varieties is possible. Due to a warming climate, the vineyards of Aargau, Zurich, Schaffhausen, Thurgau and Graubünden are now in the zone where varieties such as Müller-Thurgau or Pinot Noir succeed excellently. But even long-established, almost-forgotten varieties such as Elbling, Räuschling and Completer are experiencing a renaissance.
Subregions
Graubünden
Graubünden: Mecca for Burgundy varieties
Nowhere in Switzerland has a better ratio of first-class Pinot noir crops to cultivation area than Graubünden. The ageing philosophy of vintners here leaves its imprint even more than the subtle differences in terroir from one vineyard village to the next. In recent years, three Pinot types have established themselves here: the light and sweet Herrschäftler for everyday drinking, the selections aged in large wooden barrels or used barriques, and of course the premium selections of individual estates matured in barriques.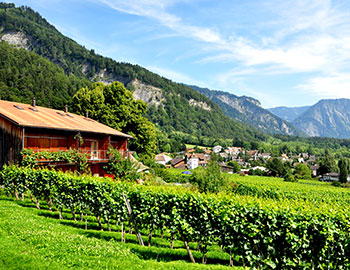 Grape varieties
Pinot gris
Pinot gris is, like the Pinot blanc, a colour mutation of Pinot noir. All three have the same genetic profile. On occasion, red, grey, pink and white, berries can be observed on the same vine stock. Some are even striped! The best Pinot grises introduce themselves opulently with ripe peach and apricot aromas, slightly woody notes and a bit of smoke. These characteristics are presented, for example, in examples from Alsace, Grauburgunders from Germany, or the representatives from Valais, where the grapes are erroneously referred to as Malvoisie. In Italy, Pinot grigio from South Tyrol and Friuli win out. Wines from this variety are great culinary companions. They get along superbly with autumnal dishes such as risotto with mushrooms or chestnuts.