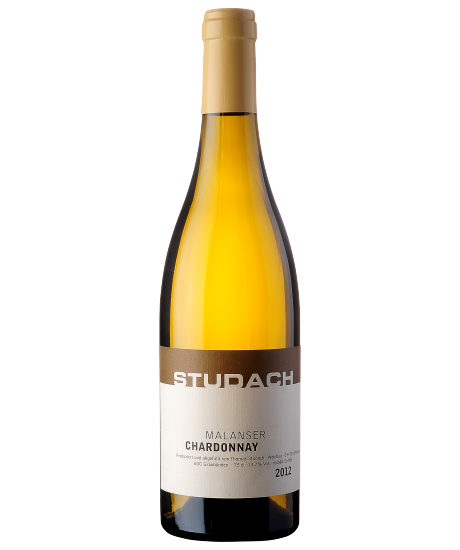 Malanser Chardonnay
AOC Graubünden, Thomas Studach, 2016
Product out of stock
Article nr. 10156716
| | |
| --- | --- |
| Grape variety: | Chardonnay |
| Producer: | Thomas Studach |
| Origin: | Switzerland / Ostschweiz / Graubünden |
Attributes
| | |
| --- | --- |
| Origin: | Switzerland / Ostschweiz / Graubünden |
| Grape variety: | Chardonnay |
| Ripening potential: | 2 to 8 years |
| Serving temperature: | 10 to 12 °C |
| Food pairing suggestion: | Smoked fish, Whole baked fish, Crispy roast chicken, Vitello tonnato, Moules à la marinière |
| Vinification: | short must fermentation, fermentation in wooden barrel, fermentation in steel tank |
| Harvest: | hand-picking |
| Maturation: | in used barriques, on the yeast, bâtonnage |
| Volume: | 14.0 % |
| Note: | Contains sulphites |
Countries
Switzerland
Switzerland – A small country with enormous diversity
Switzerland is famous for its banks, watches, and cheese, but not necessarily for its wine. The Swiss didn't invent wine, but they have been extremely open and curious to it. Wine culture arrived in what is now modern Switzerland via several routes: from Marseilles to Lake Geneva and the Lower Valais region; from the Aosta Valley through the Great St. Bernard Pass to the rest of Valais; from the Rhone through Burgundy, across the Jura Mountains to Lake Constance; and from Lombardy to Ticino, and then on to Grisons.
Regions
Ostschweiz
Eastern Switzerland: an intriguing puzzle
Eastern Switzerland has long been positioned on the northern rim of the climate zone where the cultivation of popular Swiss varieties is possible. Due to a warming climate, the vineyards of Aargau, Zurich, Schaffhausen, Thurgau and Graubünden are now in the zone where varieties such as Müller-Thurgau or Pinot Noir succeed excellently. But even long-established, almost-forgotten varieties such as Elbling, Räuschling and Completer are experiencing a renaissance.
Subregions
Graubünden
Graubünden: Mecca for Burgundy varieties
Nowhere in Switzerland has a better ratio of first-class Pinot noir crops to cultivation area than Graubünden. The ageing philosophy of vintners here leaves its imprint even more than the subtle differences in terroir from one vineyard village to the next. In recent years, three Pinot types have established themselves here: the light and sweet Herrschäftler for everyday drinking, the selections aged in large wooden barrels or used barriques, and of course the premium selections of individual estates matured in barriques.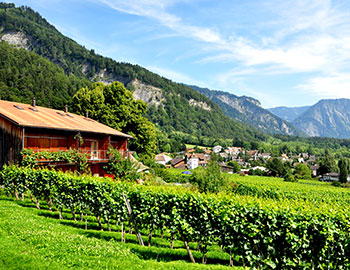 Grape varieties
Chardonnay
Hardly any variety of vine shows such a broad spectrum of quality as the Chardonnay. Its wines range from faceless neutrality to breath-taking class. It is an extremely low-maintenance vine, which explains why it is grown around the world – even in places where it probably should not be. The aromas of the Chardonnay variety are not very pronounced: a bit of green apple, a little hazelnut; in warmer latitudes, also melon and exotic fruits. The wines are often defined by maturing in casks. They develop more or less subtle notes of butter, toasted bread and vanilla. The grapes achieve their highest expression in their region of origin, Burgundy. Its heart beats in the Côte de Beaune: one might think of the plant growth of Meursault or Puligny-Montrachet. With their finesse and complexity, they can survive for decades. Chardonnay also achieves first class in some Blanc-de-Blancs champagnes. It additionally yields great wines in the Burgundian Chablis, and increasingly in Australia and Chile. A simple rule of thumb for pairing with food: When butter and cream are involved, you cannot go wrong with Chardonnay.