Räuschling Rütihof 2019
AOC Zürichsee, Weingut Rütihof, 750 ml
750 ml
Assortment Baur au Lac Vins
20
In stock
Article nr. 10078719
Description
The attack is tight, full-bodied and rich. The juicy acidity and a slightly bitter minerality give it a beautiful dynamic. What was perceived in the nose is mirrored in the mouth: grapefruit, kumquat, mandarin and gooseberry completed by some aromatic herbs. The Räuschling is a very ancient grape variety native from Lake Zürich.
Attributes
| | |
| --- | --- |
| Origin: | Schweiz / Ostschweiz / Zürichsee |
| Grape variety: | Räuschling |
| Label: | Vegan, Certified integrated production |
| Ripening potential: | 1 to 3 years |
| Serving temperature: | 10 to 12 °C |
| Food pairing suggestion: | Apéro riche, Fresh water fish with cream sauce, Goat's cheese, Mussels au gratin, Salad with vegetables, pulses, pasta |
| Vinification: | fermentation in steel tank, pressed carefully and immediately, fermentation at low temperatures |
| Harvest: | hand-picking |
| Maturation: | in steel tank |
| Volume: | 12.0 % |
| Note: | Contains sulphites |
Producer
Weingut Rütihof
Am Zürichsee, in die Hänge von Stäfa eingebettet, liegt der Rütihof. Monica Hasler Bürgi und Matthias Bürgi leben in dieser ländlichen Idylle zusammen mit ihrem Sohn Luzian. Sie sind bereits die fünfte Generation auf dem Hof, den sie von Monicas Eltern übernommen haben. Diese stellten vor mehr als 50 Jahren den Bauernhof auf Rebbau um. Heute helfen sie immer noch tatkräftig mit.
Im eher milden, vom See beeinflussten Klima wachsen auf Nagelfluh- und Sandsteinböden verschiedenste Rebsorten heran. Als autochthon gilt der Räuschling, eine sehr alte, weisse Rebsorte, die auch Zürirebe heisst. Sie ist mit gut 20 Hektaren Fläche eine echte Rarität, da sie sonst nirgends auf der Welt angebaut wird. Häufig anzutreffen sind am Zürichsee auch Riesling-Sylvaner (oder Müller-Thurgau) und Pinot Noir (oder Blauburgunder). Diese drei sind die Hauptsorten auf dem Rütihof.
Die Bewirtschaftung der Weingärten auf insgesamt rund 5 Hektaren erfordert viel Handarbeit. Es handelt sich meistens um steile Hanglagen, die eine Mechanisierung nur begrenzt ermöglichen. Die sorgfältige Handlese ist selbstverständlich wie auch die naturnahe Pflege der Reben mit gezielten Massnahmen für ein lebendiges, gesundes Ökosystem. Das ist sowohl für Monica als studierte Biologin wie auch für Matthias, der Umwelt- und Naturwissenschaften studiert hat, wichtig.
Die Familie Hasler Bürgi sitzt, steht und liegt im wahrsten Sinne des Wortes auf ihren Fässern. Sie wohnen nämlich gleich über dem Fasskeller. So sind sie ganz nah bei "ihren Kindern" und wachen über sie nach dem Motto: "Wein macht man nicht – wir lassen ihn werden."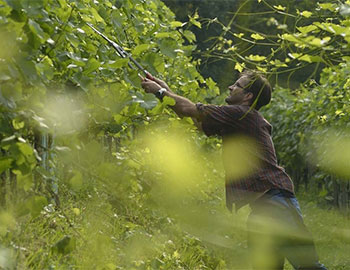 Grape variety
Räuschling
Räuschling is considered one of the oldest grape cultivars in the world. While it is only certain that it was already cultivated in Roman times, it can be assumed the variety developed from wild vines already present in Switzerland.
Its first written mention was in 1614, in the Weingartenordnung (vineyard regulation) by Philipp Ernst, Count of Hohenlohe-Neuenstein.
Räuschling currently grows on 20 hectares in Switzerland, 12 of which are in the area around Lake Zurich, its ideal climatic environment.
Like most vines, the longstanding Räuschling has many synonyms. But no other variety, has such original and diverse examples. Here are some of them: brauner Nürnberger, Buchelin, Divishna-vizhna, Dretsch, Drötsch, Dünnelbling, Erjava Tizhna, Frankentraube, Gros fendant, Grünspat, Guay Jaune, Heinzler, Klaffer, Klöpfer, Luttenberger, Luttenbergerstock, Luttenbershna, Lyonnaise Blanche, Melon Blanc, Offenburger, Padebecker, Pfäffling, Pfaffentraube, Rüssling, Silberweiss, Thunerrebe, Weisser Kläpfer, Zürirebe, Züriwiss ... and that is only a small selection!
Subregion
Zürich
Zurich: On the way to the top
With a cultivated area of 620 hectares, Zurich is the largest wine-producing canton in German-speaking Switzerland. The potential is great at prime locations on Lake Zurich and in the various river valleys. It is no surprise that a steadily increasing number of top wines are vinified here. The major variety is Pinot Noir. But white varieties also exceed exquisitely, such as Müller-Thurgau and the long-established Räuschling, as well as international varieties like Chardonnay and Sauvignon Blanc. The wine-producing canton of Zurich is currently experiencing the most sustained upswing in quality in its history.
Region
Ostschweiz
Eastern Switzerland: an intriguing puzzle
Eastern Switzerland has long been positioned on the northern rim of the climate zone where the cultivation of popular Swiss varieties is possible. Due to a warming climate, the vineyards of Aargau, Zurich, Schaffhausen, Thurgau and Graubünden are now in the zone where varieties such as Müller-Thurgau or Pinot Noir succeed excellently. But even long-established, almost-forgotten varieties such as Elbling, Räuschling and Completer are experiencing a renaissance.
Country
Switzerland
Switzerland – A small country with enormous diversity
Switzerland is famous for its banks, watches, and cheese, but not necessarily for its wine. The Swiss didn't invent wine, but they have been extremely open and curious to it. Wine culture arrived in what is now modern Switzerland via several routes: from Marseilles to Lake Geneva and the Lower Valais region; from the Aosta Valley through the Great St. Bernard Pass to the rest of Valais; from the Rhone through Burgundy, across the Jura Mountains to Lake Constance; and from Lombardy to Ticino, and then on to Grisons.
Epicurean profile