 Prà bianco
DOC Ticino, Brivio, 2018
In stock
Article nr. 10094718
| | |
| --- | --- |
| Grape variety: | Chardonnay, Sémillon, Pinot noir, Sauvignon Blanc |
| Producer: | Brivio / Gialdi |
| Origin: | Switzerland / Tessin / Sottoceneri |
Description
The cuvée presents itself with a beautiful combination of scents and flavours! The bouquet presents delicate, fruity aromas of peach, pear and kumquats with hints of lilac and thyme. On the palate, the herbal and spicy component unfolds and leads over to fresh citrus notes. The fruity and fresh finish quickly makes you want to take the next sip!
Attributes
| | |
| --- | --- |
| Origin: | Switzerland / Tessin / Sottoceneri |
| Grape variety: | Chardonnay, Sémillon, Pinot noir, Sauvignon Blanc |
| Ripening potential: | 1 to 4 years |
| Serving temperature: | 10 to 12 °C |
| Food pairing suggestion: | Apéro riche, Crispy roast chicken, Vegetable flan, quiche, Salad with vegetables, pulses, pasta |
| Vinification: | fermentation in steel tank, pressed carefully and immediately |
| Harvest: | hand-picking |
| Maturation: | in steel tank |
| Volume: | 12.5 % |
| Note: | Contains sulphites |
Countries
Switzerland
Switzerland – A small country with enormous diversity
Switzerland is famous for its banks, watches, and cheese, but not necessarily for its wine. The Swiss didn't invent wine, but they have been extremely open and curious to it. Wine culture arrived in what is now modern Switzerland via several routes: from Marseilles to Lake Geneva and the Lower Valais region; from the Aosta Valley through the Great St. Bernard Pass to the rest of Valais; from the Rhone through Burgundy, across the Jura Mountains to Lake Constance; and from Lombardy to Ticino, and then on to Grisons.
Regions
Tessin
Ticino: the Merlot Mecca of Switzerland
Ticino winegrowing is thought to date from Roman times, as early as 2000 years ago. But the foundation for today's viticulture was laid just over 100 years ago, in 1907. It was then that the first Merlot vines were planted at Castelrotto in Malcantone. Since then, the variety has emerged triumphant here. Top selections matured in barriques more than measure up to those from Bordeaux's Saint-Émilion or Pomerol regions.
Producers
Brivio / Gialdi
For most of wine lovers in Switzerland, the name Guido Brivio is no unknown. However, abroad, it is a different story. Only after many years in the trade has he become among the wine experts and professionals of New York or London an insider tip, so to say, from an infinitesimally tiny unknown corner in the great international wine world.
Although Guido's grandfather was a wine merchant, he didn't grow up in this industry, or even on a wine estate. At home, life didn't revolve around grapes, but artichokes! His mother and uncle jointly possessed the Swiss production rights for Cynar. Only after studying business in London did the young Guido decide to study oenology in Bordeaux. His mother was delighted, as she saw that a certain family tradition could now continue. There then followed a stay in Sonoma Valley, California, where he became acquainted with American wine producers' carefree, adventurous way of working.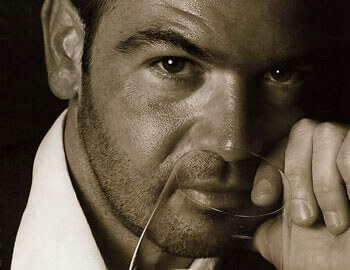 Grape varieties
Sémillon
The Sémillon grape is the basis of the legendary sweet wines of Sauternes. Its origins are there, in the southern part of the Bordeaux region. Its secret to success is its susceptibility to the Botrytis fungus, which pierces the skin of the ripe berries. Thus the water evaporates, and the sugar in the fruits concentrates. The musts are as thick as syrup. They present the citrus-fresh, fruity aromas of the Sémillon varieties. In addition, the Botrytis fungus contributes complex notes of honey, dry apricot and candied orange to the wine. The Sémillon is closely related to the Sauvignon blanc, and almost all sweet wines from Sauternes and its surroundings contain a small proportion of Sauvignon. The dry whites from Bordeaux are the opposite: the Sémillon mostly plays the supporting role. In early-19-century South Africa, Sémillon was the most planted grape. However, only vanishingly small quantities still grow there today. However, the vine has since taken root in California and Australia.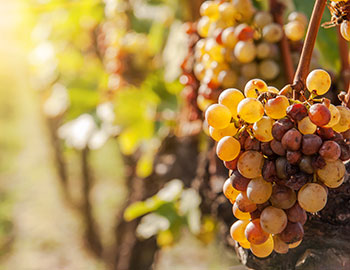 Pinot noir
No other variety expresses its terroir as precisely as Pinot noir. It is a sensitive, fragile grape. But when it succeeds, it gives the world some of its very greatest wine plants. It especially excels in Burgundy, where it has been cultivated for at least 700 years. Even in the middle ages, it was considered so precious that it was kept separate from other grapes so as to not diminish its value. The finest examples are delicate and fragrant with aromas of cherries and red berries. With maturity, notes of forest floor, leather and truffles enter as well. An irresistible fruity sweetness still shines through, even after several decades. The Pinot noir does well in cool locations: in Switzerland and in Germany, where it is known as Blauburgunder and Spätburgunder respectively; in Alsace and in South Tyrol, in Oregon, New Zealand and Tasmania. Not least, it yields fantastic champagnes. It is a wonderful culinary companion. With its soft tannins and charming bouquet, it meshes with everything, from Güggeli and cheeses to fried fish.
Sauvignon Blanc
The Sauvignon blanc can be recognized with your eyes closed. Its typical bouquet is marked by green notes: freshly cut grass, tomato bunches, gooseberry. Citrus fruits, cassis and flint join into the mix. In warmer latitudes it also shows exotic aromas, such as passion fruit. Its acidity is decidedly lively. In all likelihood, it comes from the Loire Valley, where it is vinified in Pouilly-Fumé and Sancerre in its purest form: varietally, and without timber. In the 18th century, it found its way to Bordeaux. Ambitious producers assemble it there with Sémillon into substantial whites, which are aged in oak barrels. The Sauvignon blanc has been a sensational success in the past 20 years in New Zealand. With its refreshing sweet-and-sour style, winemakers from down under have conquered the world. The rich Sauvignons from Styria and crisp examples of South Tyrol and Friuli are worth mentioning as well. It pairs with anything from the sea. Or do it like they do on the Loire, and enjoy it with goat cheese.
Chardonnay
Hardly any variety of vine shows such a broad spectrum of quality as the Chardonnay. Its wines range from faceless neutrality to breath-taking class. It is an extremely low-maintenance vine, which explains why it is grown around the world – even in places where it probably should not be. The aromas of the Chardonnay variety are not very pronounced: a bit of green apple, a little hazelnut; in warmer latitudes, also melon and exotic fruits. The wines are often defined by maturing in casks. They develop more or less subtle notes of butter, toasted bread and vanilla. The grapes achieve their highest expression in their region of origin, Burgundy. Its heart beats in the Côte de Beaune: one might think of the plant growth of Meursault or Puligny-Montrachet. With their finesse and complexity, they can survive for decades. Chardonnay also achieves first class in some Blanc-de-Blancs champagnes. It additionally yields great wines in the Burgundian Chablis, and increasingly in Australia and Chile. A simple rule of thumb for pairing with food: When butter and cream are involved, you cannot go wrong with Chardonnay.
Epicurean profile