 Domaine de la Crausaz blanc
AOC Lavaux, J. & M. Dizerens, 2016
In stock
Article nr. 10100716
| | |
| --- | --- |
| Grape variety: | Chasselas, Chardonnay, Pinot gris |
| Producer: | J. & M. Dizerens |
| Origin: | Switzerland / Waadt / Lavaux |
| Other vintages: | |
Attributes
| | |
| --- | --- |
| Origin: | Switzerland / Waadt / Lavaux |
| Grape variety: | Chasselas, Chardonnay, Pinot gris |
| Maturity: | 3 to 4 years |
| Serving temperature: | 10 to 12 °C |
| Drinking suggestion: | Apéro riche, Fresh water fish with cream sauce, Cheese board |
| Vinification: | fermentation in steel tank, pressed carefully and immediately, fermentation at low temperatures |
| Harvest: | hand-picking |
| Maturation: | in steel tank |
| Volume: | 12.5 % |
Countries
Switzerland
Switzerland – A small country with enormous diversity
Switzerland is famous for its banks, watches, and cheese, but not necessarily for its wine. The Swiss didn't invent wine, but they have been extremely open and curious to it. Wine culture arrived in what is now modern Switzerland via several routes: from Marseilles to Lake Geneva and the Lower Valais region; from the Aosta Valley through the Great St. Bernard Pass to the rest of Valais; from the Rhone through Burgundy, across the Jura Mountains to Lake Constance; and from Lombardy to Ticino, and then on to Grisons.
Regions
Waadt
Vaud: stronghold of the Chasselas
Vintners of Vaud have almost stubbornly maintained their loyalty to their preferred variety, Chasselas. This is now paying off, as white wines with moderate alcohol content are experiencing a renaissance. And vintners today interpret the lightness of Chasselas in their own individual ways. Over 100 chateaux produce wine here. By contrast, the wine villages fascinate with rural charm. It is these contrasts that make this winegrowing canton an exciting destination for wine tourism.
Subregions
Lavaux
The Lavaux: In the stronghold of Chasselas
The Lavaux comprise 825 of the 3,800 total hectares in Vaud, and form the heart of viticulture in this wine-growing canton. In the sometimes spectacularly steep terraced vineyards, the Chasselas grape demonstrates that it can produce tightly structured crus shaped by the terroir. The wines from the 54-hectare grand cru site, Dézaley, have a legendary reputation. More delicate wines are produced in the western parts of the Lavaux (Lutry and Villette) and the eastern foothills (Montreux).
Producers
J. & M. Dizerens
Grape varieties
Pinot gris
Pinot gris is, like the Pinot blanc, a colour mutation of Pinot noir. All three have the same genetic profile. On occasion, red, grey, pink and white, berries can be observed on the same vine stock. Some are even striped! The best Pinot grises introduce themselves opulently with ripe peach and apricot aromas, slightly woody notes and a bit of smoke. These characteristics are presented, for example, in examples from Alsace, Grauburgunders from Germany, or the representatives from Valais, where the grapes are erroneously referred to as Malvoisie. In Italy, Pinot grigio from South Tyrol and Friuli win out. Wines from this variety are great culinary companions. They get along superbly with autumnal dishes such as risotto with mushrooms or chestnuts.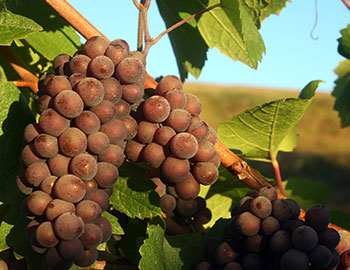 Chasselas
From cheerful drinking wine to the classy grand cru: the Chasselas is, with good reason, the flagship of Switzerland. It is extremely multifaceted. A young, apple and pear fruit specimen turns raclette into a feast. And a mature plant from the steep slopes of Lake Geneva, for instance from Lavaux, perfectly accompanies fish and seafood with its nut and flint notes. In its stronghold, the canton of Vaud, the Chasselas was once called Fendant. It has been known there for over 500 years. But at the beginning of the 20th century, vintners renamed it Chasselas, and from then on wrote the communities of origin on the label. Meanwhile, the grapes gathered such a reputation in neighbouring Valais as Fendant that most people today believe the name was invented there. The difference between the regions is that in Vaud the terroir expression of Chasselas is particularly noticeable. In Valais, conversely, the warm weather allows particularly round, fruity wines to develop. The Chasselas from Neuchâtel is not to be forgotten. A specialty there is the non-filtré, an unfiltered wine which is enjoyed in January as an early harbinger of spring.
Chardonnay
Hardly any variety of vine shows such a broad spectrum of quality as the Chardonnay. Its wines range from faceless neutrality to breath-taking class. It is an extremely low-maintenance vine, which explains why it is grown around the world – even in places where it probably should not be. The aromas of the Chardonnay variety are not very pronounced: a bit of green apple, a little hazelnut; in warmer latitudes, also melon and exotic fruits. The wines are often defined by maturing in casks. They develop more or less subtle notes of butter, toasted bread and vanilla. The grapes achieve their highest expression in their region of origin, Burgundy. Its heart beats in the Côte de Beaune: one might think of the plant growth of Meursault or Puligny-Montrachet. With their finesse and complexity, they can survive for decades. Chardonnay also achieves first class in some Blanc-de-Blancs champagnes. It additionally yields great wines in the Burgundian Chablis, and increasingly in Australia and Chile. A simple rule of thumb for pairing with food: When butter and cream are involved, you cannot go wrong with Chardonnay.