 Clos des Corbassières Johannisberg Coeur du Clos
AOC Valais, Domaine Cornulus, 2019
750 ml
Selection Baur au Lac Vins
40
In stock
Article nr. 10176719
Description
At Clos des Corbassières, the Johannisberg (Silvaner or Gros Rhin) grows within the protected dry stone walls. This white wine, made from vines over 75 years old and aged in large amphorae, has a complex bouquet of apricots, ripe pears, citrus fruits and currants. On the palate it is full-bodied, flattering and delicate. Its velvety start, followed by a present mineral astringency and a bitter sweet almond finish make this Johannisberg an exciting accompaniment to a meal.
Attributes
| | |
| --- | --- |
| Origin: | Schweiz / Wallis |
| Grape variety: | Sylvaner |
| Ripening potential: | 1 to 8 years |
| Serving temperature: | 10 to 12 °C |
| Food pairing suggestion: | Apéro riche, Hot Asian dishes, Scaloppine di vitello al limone, Cheese board, Tagliatelle al tartufo, Asparagus specialities |
| Harvest: | hand-picking with simultaneous grape sel |
| Maturation: | in amphoras |
| Maturation duration: | 5 months |
| Volume: | 14.5 % |
| Note: | Contains sulphites |
Countries
Switzerland
Switzerland – A small country with enormous diversity
Switzerland is famous for its banks, watches, and cheese, but not necessarily for its wine. The Swiss didn't invent wine, but they have been extremely open and curious to it. Wine culture arrived in what is now modern Switzerland via several routes: from Marseilles to Lake Geneva and the Lower Valais region; from the Aosta Valley through the Great St. Bernard Pass to the rest of Valais; from the Rhone through Burgundy, across the Jura Mountains to Lake Constance; and from Lombardy to Ticino, and then on to Grisons.
Regions
Wallis
Valais: Alpine wines with class
More than 20 varieties of grapes can yield wines in Valais that are full of character. A large number of them grow on spectacular, steep slopes. Sealed off by mighty chains of mountains, old plantings like Petite Arvine, Amigne and Cornalin have survived in Valais, and today they are highly sought-after by wine enthusiasts. The highest vineyards in Europe are also found in Valais: the Savignin vines (known here as "Heida"), rooted in the mountain community of Visperterminen.
Producers
Domaine Cornulus
What started out from humble beginnings over 20 years ago is now one of Valais' flagship wineries and the byword for both a way of working in harmony with nature and premium wines, all of which strongly bring out their individual terroir.
Valais natives and cousins Stéphane Reynard and Dany Varone are perfectionists who love what they do. They tend to their vines, which live and thrive above Sion in the village of Savièse, as if they were their own children. Thanks to Dany Varone's meticulous and expert work in the wine cellar, they craft terroir wines of the highest quality. This winemaking duo – now part of the Valais elite – laid the foundation for their successful Domaine Cornulus project in 1986, setting up the "Buteo" wine cellar and launching their "Garage Winery". They bought their first harvests straight off the vines of various Savièse winegrowers and started pressing them in a garage. The following year, they leased their first vines in the vineyards above Sion (less than 1 hectare). In 1989 they created the Sélection Cornulus, after which their winery is named. A few harvests later, they acquired their first plots in the Clos de Mangold in 1995. Their dream of establishing a real domaine of their own gradually took shape. "After all, you will rarely find a good wine without terroir," say Stéphane and Dany. In 1999 there followed the "prime cut", the famous Clos des Corbassières, the jewel in the domaine's crown. In the course of the "noughties", they successively acquired various Grand Cru plots between Sion and Sierre as well as Clos Chamaray, St-Charles and La Follie. The rich palette of exquisite vines was finally rounded off to perfection by the magnificent Clos des Monzuettes.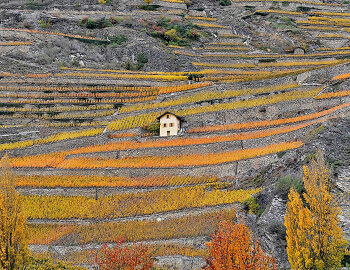 Grape varieties
Sylvaner
Asparagus partner and sweet wine star
The Sylvaner was created over a century ago as a spontaneous crossing in Austria. Today, only minute quantities are found there. It occupies the largest area in Germany, where it is spelled "Silvaner". Well into the 1970s, it even trumped Riesling there by area. In France, Alsace has the monopoly on the Sylvaner. There, the variety is prized mainly in Valais; there, it is called Johannisberg or Johannis for short. Dry examples are perfect wines for asparagus: spirited and full-bodied, with moderate acidity and a delicate aroma of herbs, gooseberries and fresh hay. In addition, it yields superb dessert wines that can mature for two to three decades without issue.