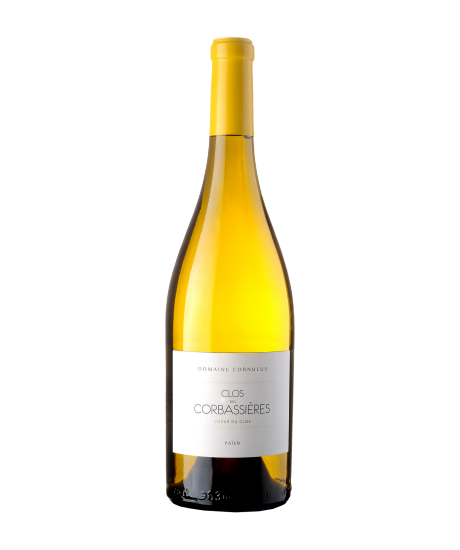 Clos des Corbassières Païen Coeur du Clos
AOC Valais, Domaine Cornulus, 2018
750 ml
Selection Baur au Lac Vins
40
In stock
Article nr. 10178718
| | |
| --- | --- |
| Grape variety: | Heida |
| Producer: | Domaine Cornulus |
| Origin: | Switzerland / Wallis |
Description
In the heart of the Clos des Corbassières, the Païen (synonymous with the rare grape variety Savagnin Blanc or Heida) thrives. It has its origins in the Upper Valais and feels particularly at home at high altitudes. This white, aromatic jewel exudes a fragrance reminiscent of ripe white peaches, lemon peel, flambéed pineapple and butter caramel. On the palate it reveals its fine mineral notes, opulence and creaminess, as well as aromas of salty almonds, vanilla, saffron, caramelized oranges and cardamom. It appears juicy, lively and overall very balanced.
Attributes
| | |
| --- | --- |
| Origin: | Switzerland / Wallis |
| Grape variety: | Heida |
| Ripening potential: | 1 to 8 years |
| Serving temperature: | 10 to 12 °C |
| Food pairing suggestion: | Hot Asian dishes, Fish ragout with saffron sauce, Fresh water fish with cream sauce, Wild fowl, Cheese board, Tagliatelle al tartufo |
| Harvest: | hand-picking with simultaneous grape sel |
| Maturation: | in new barriques |
| Maturation duration: | 18 months |
| Volume: | 14.5 % |
| Note: | Contains sulphites |
Countries
Switzerland
Switzerland – A small country with enormous diversity
Switzerland is famous for its banks, watches, and cheese, but not necessarily for its wine. The Swiss didn't invent wine, but they have been extremely open and curious to it. Wine culture arrived in what is now modern Switzerland via several routes: from Marseilles to Lake Geneva and the Lower Valais region; from the Aosta Valley through the Great St. Bernard Pass to the rest of Valais; from the Rhone through Burgundy, across the Jura Mountains to Lake Constance; and from Lombardy to Ticino, and then on to Grisons.
Regions
Wallis
Valais: Alpine wines with class
More than 20 varieties of grapes can yield wines in Valais that are full of character. A large number of them grow on spectacular, steep slopes. Sealed off by mighty chains of mountains, old plantings like Petite Arvine, Amigne and Cornalin have survived in Valais, and today they are highly sought-after by wine enthusiasts. The highest vineyards in Europe are also found in Valais: the Savignin vines (known here as "Heida"), rooted in the mountain community of Visperterminen.
Producers
Domaine Cornulus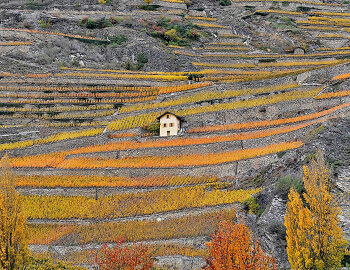 Grape varieties
Heida
If a winemaker is asked to name the rising star among the Swiss varieties, the answer is usually Heida. The age old white grape probably dates from before Christianization, hence the name ("heiden" is German for pagan, or heathen). In French-speaking Valais, they are known as Païen, in Geneva as Savagnin blanc, and as Traminer in Germany. It has its origins in the French Jura. There, vintners process it into the specialty vin jaune, similar to sherry. What makes these grapes so special? At a time when many whites are becoming increasingly interchangeable, Heide wines are truly characteristic. They smell of citrus and exotic fruits, of green nuts and honey, and often have lightly smoky echoes. And they mature unusually well. With their full body and structure-giving acidity, they can easily withstand 20 years in the cellar. Tip: a mature specimen with Valais raclette can convert ingrained Chasselas-followers on its own.
Epicurean profile