 Certified integrated production
Cuvée 1858 Blanc
AOC Wallis, Bonvin, 2018
750 ml
Selection Baur au Lac Vins
40
In stock
Article nr. 10017718
Description
This exceptional wine combines breeding and elegance, complexity and opulence. Expansive, long and powerful, its taste spreads on the palate. Aromas of quince, ripe apricots and candied orange peel blend with a hint of saffron and the roasted aromas of toast, vanilla and butterscotch from the subtle barrel ageing. The scent of roses, acacia flowers and daffodils intensifies with air. It is therefore worth decanting this wine.
Attributes
| | |
| --- | --- |
| Origin: | Schweiz / Wallis |
| Grape variety: | Petite Arvine, Heida, Amigne |
| Ripening potential: | 2 to 10 years |
| Serving temperature: | 10 to 12 °C |
| Food pairing suggestion: | Grilled fish, Roast veal with morel sauce, Crispy roast chicken |
| Vinification: | fermentation in wooden barrel, soft pressing, cooling period |
| Harvest: | hand-picking, strict selection, in small boxes |
| Maturation: | in new barriques |
| Volume: | 13.5 % |
| Note: | Contains sulphites |
Countries
Switzerland
Switzerland – A small country with enormous diversity
Switzerland is famous for its banks, watches, and cheese, but not necessarily for its wine. The Swiss didn't invent wine, but they have been extremely open and curious to it. Wine culture arrived in what is now modern Switzerland via several routes: from Marseilles to Lake Geneva and the Lower Valais region; from the Aosta Valley through the Great St. Bernard Pass to the rest of Valais; from the Rhone through Burgundy, across the Jura Mountains to Lake Constance; and from Lombardy to Ticino, and then on to Grisons.
Regions
Wallis
Valais: Alpine wines with class
More than 20 varieties of grapes can yield wines in Valais that are full of character. A large number of them grow on spectacular, steep slopes. Sealed off by mighty chains of mountains, old plantings like Petite Arvine, Amigne and Cornalin have survived in Valais, and today they are highly sought-after by wine enthusiasts. The highest vineyards in Europe are also found in Valais: the Savignin vines (known here as "Heida"), rooted in the mountain community of Visperterminen.
Producers
Bonvin
High above Sion, on the Clos du Château, is the heart of the oldest wine trading house in Valais – today's winery Charles Bonvin SA. The view sweeps over the wide Rhone valley, meets the two castle hills of Tourbillon and Valère and grazes on the magnificent Valais vine landscape with its countless terraces.
In the mid-19th century, Valais was a poor area. The valley was largely marshland. The people, mostly farmers, mainly subsisted from agriculture and the dairy industry. The wineries were set up where nothing else could be grown. The vineyard was smaller than the one in Zurich and the yield was mostly for self-consumption. The Valais wine couldn't leave its borders, although it had been cultivated since Roman times.
Grape varieties
Amigne
What does the Amigne have to do with bees? This white Valais specialty is the flagship of the village of Vétroz. It is distinguished by its aromas of orange and tangerine and by its lively acidity. Above all, it covers the whole spectrum of wine types, from bone dry to nobly sweet. And this is where the bees come into play. To help consumers know what type they are getting, the winemakers from Vétroz have produced a logo: one bee on the bottle signifies a dry wine, two bees mean semisweet and three bees stand for a sweet variety. Tip: try the dry or slightly sweet version with a poultry pâté. The sweet wines harmonize perfectly with fruit desserts like tarte Tatin. By the way: all of the wines from Amigne can age quite excellently.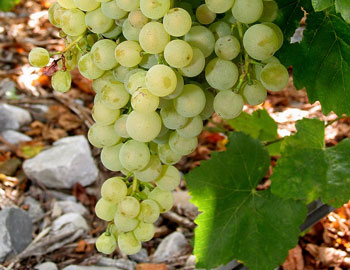 Petite Arvine
The white Petite Arvine is the diva of Swiss grapes. It thrives only in the very best sites of Valais: sunny and sheltered from wind, not too dry, but not too moist. No wonder they were almost extinct. For convenience, vintners replaced the delicate plants from the beginning of the last century with more low-maintenance varieties. Their rebirth in the 1990s is thanks to dedicated companies that recognized the unique profile of this primordial Valais variety. Their hallmarks are aromas of grapefruit and rhubarb, paired with a tangy acidity and a curious, slightly salty touch at the end – like a grain of fleur de sel on the tongue. The Petite Arvine is mostly made into a dry wine, but as a sweet wine it offers a fantastic, sweet-spicy taste experience.
Heida
If a winemaker is asked to name the rising star among the Swiss varieties, the answer is usually Heida. The age old white grape probably dates from before Christianization, hence the name ("heiden" is German for pagan, or heathen). In French-speaking Valais, they are known as Païen, in Geneva as Savagnin blanc, and as Traminer in Germany. It has its origins in the French Jura. There, vintners process it into the specialty vin jaune, similar to sherry. What makes these grapes so special? At a time when many whites are becoming increasingly interchangeable, Heide wines are truly characteristic. They smell of citrus and exotic fruits, of green nuts and honey, and often have lightly smoky echoes. And they mature unusually well. With their full body and structure-giving acidity, they can easily withstand 20 years in the cellar. Tip: a mature specimen with Valais raclette can convert ingrained Chasselas-followers on its own.
Epicurean profile