 Sauvignon Blanc Starmont
AVA St. Helena, Merryvale Vineyards, 2018
750 ml
Selection Baur au Lac Vins
30
In stock
Article nr. 16006718
Description
Pale yellow tone with sparkling green hues. Exotic fruity nose of gooseberry and fresh hay. On palate a little extra body is provided by the Semillon which balances the freshness of the Sauvignon Blanc and gives a richer aromatic diversity.
Attributes
| | |
| --- | --- |
| Origin: | USA / Kalifornien / Napa Valley |
| Grape variety: | Sauvignon Blanc |
| Ripening potential: | 2 to 5 years |
| Serving temperature: | 10 to 12 °C |
| Food pairing suggestion: | Smoked fish, Grilled fish, Goat's cheese |
| Vinification: | partly destemmed, fermentation in wooden barrel, fermentation in steel tank |
| Harvest: | hand-picking with simultaneous grape sel |
| Maturation: | in used barriques |
| Maturation duration: | 4 months |
| Volume: | 13.0 % |
| Note: | Contains sulphites |
Countries
USA
The United States is the third-largest nation on the planet in terms of both land area (after Russia and Canada) and population (after China and India). Every conceivable climate zone can be found in the US, from hot deserts to arctic frost. Thanks to immigration from all over the world, the US is probably the most multicultural country on the planet. Thus it has the ideal conditions for producing internationally recognized wine.
Regions
California
California: Lots of fruit and ripe tannins
Around 90 percent of the wine produced in the USA comes from California. The Napa Valley, situated roughly 100 kilometers north of San Francisco, is the most prominent wine region in the western hemisphere. California vintners first caused an international sensation with Chardonnay and Cabernet Sauvignon. Today, however, superior wines are also produced from Pinot Noir, Syrah and other varieties. California's wine country shows more variety today than ever before.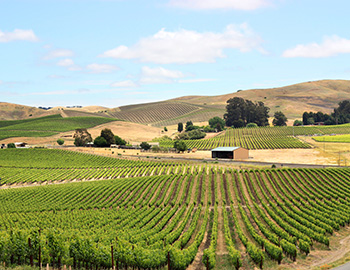 Producers
Merryvale Vineyards
At a young age, Jack Schlatter travelled from Switzerland to Dallas in the 1950s to work in the cotton trade. He later moved to Mexico and São Paulo (as a coffee tester) and back to Zurich to develop the cotton business in the Eastern bloc. But he always had one foot in Dallas and entered the real estate business there. The wine business also appealed to him early on. But it was a while before he met Bill Harlan, the owner of Merryvale.
The winery was founded in 1933 by a group of partners shortly after the Prohibition era ended, and it attracted over the decades several famous personalities as partners, consultants or owners: Peter and Robert Mondavi from the beginning and then Bill Harlan in the 1980s. Jack Schlatter became a fifty-fifty partner in 1991 and brought the winery into the European and Asian markets. He purchased the winery outright in 1994. Today, his son René stands firmly at the helm.

The historic building is located in the south of the small town of St. Helena at the heart of Napa Valley. The winery-owned Estate Vineyards lie to the east of St. Helena at about 280 metres above sea level. Around 10 hectares of Cabernet Sauvignon, Cabernet Franc and Petit Verdot were planted here in 1997. At that time, Michel Rolland was the expert consultant for Merryvale.
Grape varieties
Sauvignon Blanc
The Sauvignon blanc can be recognized with your eyes closed. Its typical bouquet is marked by green notes: freshly cut grass, tomato bunches, gooseberry. Citrus fruits, cassis and flint join into the mix. In warmer latitudes it also shows exotic aromas, such as passion fruit. Its acidity is decidedly lively. In all likelihood, it comes from the Loire Valley, where it is vinified in Pouilly-Fumé and Sancerre in its purest form: varietally, and without timber. In the 18th century, it found its way to Bordeaux. Ambitious producers assemble it there with Sémillon into substantial whites, which are aged in oak barrels. The Sauvignon blanc has been a sensational success in the past 20 years in New Zealand. With its refreshing sweet-and-sour style, winemakers from down under have conquered the world. The rich Sauvignons from Styria and crisp examples of South Tyrol and Friuli are worth mentioning as well. It pairs with anything from the sea. Or do it like they do on the Loire, and enjoy it with goat cheese.