 Shiraz Andelmonde 2018
Barossa Valley, Standish, 750 ml
Assortment Baur au Lac Vins
Gift box available!
In stock
Article nr. 52048718
Items available in the stores
Gift box available!
Description
On the palate as well as in the nose, intense aromas of crème de mûre, herbs, smoked cedar wood and earth. Very concentrated body with a light fruit sweetness and refreshing acidity that makes it extremely elegant. In the finish, it lingers for a long time.
Attributes
| | |
| --- | --- |
| Origin: | Australia / South Australia / Barossa Valley |
| Grape variety: | Shiraz |
| Ripening potential: | 5 to 15 years after harvest |
| Drinking temperature: | 16 to 18 °C |
| Food Pairing: | Latin American dishes, Roasted lamb gigot, Bistecca fiorentina, T-Bone steak, Wild specialities |
| Vinification: | fermentation with grapes' own yeast |
| Harvest: | hand-picking |
| Maturation: | in new barriques |
| Maturation duration: | 24 months |
| Volume: | 15.0 % |
| Note: | Contains sulphites |
Producer
Standish / Dan Standish
The Standish Wine company was founded in 1999 by Dan Standish. He started at that time with a small, family-owned plot of almost hundred-year-old Shiraz vines in the heart of the Barossa Valley, in the sub-region of Vine Vale. He is part of the sixth generation of immigrants who settled here in 1848. In his career, Dan Standish gained experience not only in his home country, but also in California, Spain and France. He is passionate about the great wines of the Rhône Valley.
His wines all reflect outstanding personalities. They stand out for their complexity, concentration and elegance, and never for excessive opulence or heaviness, as a first glance might have you believe. They all come from authentic roots, literally meaning non-grafted vines, as this region was fortunately spared from the global phylloxera plague. The oldest ones, over a hundred years old, are used for Standish and Relic. The vineyards are all located in the Barossa Valley except for those for the Borne Bollene, which come from the Eden Valley, West of Barossa.
Dan Standish is an advocate of "hands-off and natural winemaking" – a more natural and traditional vinification technique involving little or no intervention. The grapes are crushed by foot and spontaneously fermented with their own yeasts in open wooden fermentation casks. Old basket presses are used to apply a gentle press. The maturation is carried out in used French oak barrels.
Along with Jayson Collins, Dan Standish is also the winemaker of Massena wines, also featured in the Baur Lac Vins product range. He is undoubtedly one of the most exceptionally gifted winemakers in Australia, with the ability to elicit a whole universe of aromas from some of the oldest vines on our planet.
Grape variety
Shiraz
The legend stubbornly persists that the Syrah variety came from the Persian city of Shiraz. Yet, researchers have shown that it is a natural crossing of two old French varieties: the red Dureza from the Rhône Valley and the white Mondeuse blanche from Savoy. Wines from Syrah are gentle and concentrated. They smell of dark berries, violets and liquorice, and amaze with a piquant touch of white pepper. As varietal wines, they are found on the northern Rhone, as in the Hermitage or Côte Rôtie appellations, as well as in Swiss Valais. In the southern Rhône Valley, Syrah is often wedded with Grenache and Mourvèdre. In 1832, a Frenchman brought the variety to Australia, where it became the emblem of the national wine industry. There, the weightiest versions develop with typical notes of tar and chocolate.
Subregion
Barossa Valley
Barossa Valley: well-proportioned abundance
The Barossa Valley is the epitome of Australian red wines with lavish fruit richness and focused strength. But the valley is not just a preferred terroir for Shiraz, Grenache, Cabernet, and co. – there are also huge winery facilities where grapes are processed from other cultivation areas in South Australia. Thus, the valley has become a center of Australian winemaking, bringing concentrated yet balanced crops into bottles.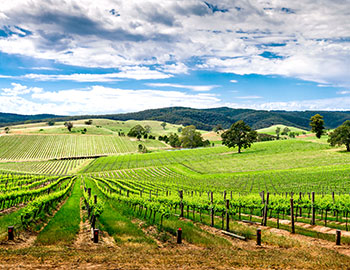 Region
South Australia
South Australia: Shiraz as a driving force
South Australia, with the Barossa Valley as the most well-known cultivation area and the city of Adelaide as a wine metropolis, is without a doubt the centre of the Australian wine economy. The wines produced here have brought the Shiraz from "down under" worldwide recognition. They are fully concentrated wines with dark-berried cassis fruit and masterfully supportive oak wood spices. But Chardonnay, Cabernet Sauvignon, Merlot and Riesling play more than just a supporting role.
Country
Australia
Australia – A rapid rise to the international elite.
Australia, separated from the other continents by oceans for roughly 50 million years, has almost two hundred years of viticulture history. For a long time, Australians pressed their wines for their own use, with simple, undemanding vines. But later the country began to specialize in classic, European varieties. And with great success –Australian wines today enjoy great prestige and are consumed worldwide..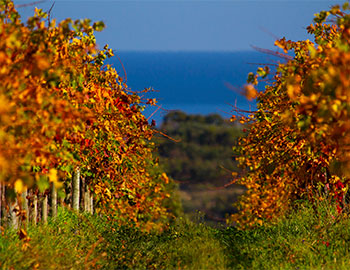 Rating