 Montepulciano d'Abruzzo 1990
DOC Montepulciano d'Abruzzo, Azienda Agricola Valentini, 750 ml
Gift box available!
In stock
Article nr. 35340790
Items available in the stores
Gift box available!
Grape variety
Montepulciano
The name is a source of confusion. Montepulciano is a well-known location in Tuscany, after which this grape is presumably named. But it is not at all grown in Montepulciano itself, where the Sangiovese reigns. The Montepulciano actually has its stronghold in the Abruzzo region, located in central Italy on the Adriatic Sea. It also plays a key role in Rosso Conero and Rosso Piceno in the Marche region. Wines of this variety are dense and dark with flavours of cherry, plum and spices and earthy, robust tannins. The Montepulciano grape loves the sun, which explains why in recent years it has increasingly spread to southern Italy.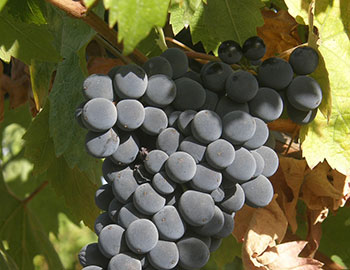 Country
Italy
Italy – Where wine is a way of life
The Italian wine regions are extremely diverse, and this is made clear in their wines. Established varieties such as Merlot, Syrah, and Sauvignon can be found on just 15 percent of the total vine growing area. The remaining 85 percent is reserved for autochthonous, indigenous varieties. More than 2,000 different grape varieties are grown under diverse conditions and pressed with various techniques into wines that reach the top tier of the international wine market.