 Quiñón de Valmira 2016
DOC Rioja, Alvaro Palacios, 750 ml
Exclusivity Baur au Lac Vins
Gift box available!
In stock
Article nr. 37023716
Items available in the stores
Gift box available!
Description
It's an exceptional wine, chatoyant and sophisticated which at the same time is opulent, velvety and with an incredible intensity. Its ruby red colour is very light, almost transparent. In the nose, it shows great complexity with pronounced fruity and flowery notes of rose, lilac, jasmine, red currant, raspberry and rhubarb supported by mint, white pepper and caramel. The ageing in oak is only very discrete and the wine appears soft and velvety with a lot of charm and extraction sweetness. It's 'n amazing pleasure for the senses which last for a long time in the finish
Attributes
| | |
| --- | --- |
| Origin: | Spain / Rioja |
| Grape variety: | Garnacha |
| Ripening potential: | 4 to 15 years |
| Drinking temperature: | 16 to 18 °C |
| Food Pairing: | Bouillabaisse, Saddle of lamb fillet with herb jus, Wild fowl, Moules à la marinière |
| Vinification: | fermentation with grapes' own yeast, long must fermentation, fermentation in wooden barrel |
| Harvest: | hand-picking, strict selection, selecting the grapes (by hand) |
| Maturation: | in new barriques, long cultivation, some months bottle storage before sale |
| Bottling: | no filtration |
| Volume: | 14.0 % |
| Note: | Contains sulphites |
Grape variety
Garnacha
Grenache seldom comes alone
Spaniards and Sardinians make the Grenache contentious: both claim it originated from their country. In fact, it had already appeared in both places by the 16th century. But a large number of mutations in Spain indicates that it has deeper roots on the Iberian Peninsula. The Grenache is meaty, rich in tannins and spicy, with a wonderful, fruity sweetness and rich aromas of blackberry, cassis, plums and pepper. Under the name Garnacha, it contributes fullness to the Rioja. In Sardinia it is called Cannonau, where it yields strong, expressive wines. But its stronghold is in France. Grenache is the star in Châteauneuf-du-Pape and streams into many other assemblages from the south. Its preferred partners are Syrah and Mourvèdre. This blend is also very popular abroad. In Australia, these wines are simply called "GSM".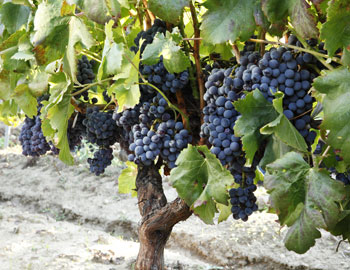 Region
Rioja
Rioja: A legend in upheaval
It is the flagship of the Spanish wine industry: the Rioja region, with its elegant, yet storable wines, most of which are dominated by the Tempranillo, has decisively influenced the image of Spanish wine. Above all, the Reservas and Gran Reservas, aged for years in barrels, enjoy a magical reputation. For about 20 years, the Rioja houses have created a sensation with modern-designed, fruity wines, which are marked more by their terroir than their aging processes.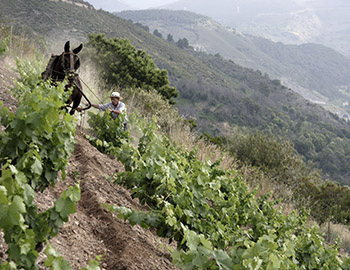 Country
Spain
Spain – Variety and perfection
"Somewhere in la Mancha, in a place whose name I do not care to remember...," begins Don Quixote's odyssey.
The most famous part is definitely when Don Quixote thinks windmills are his enemy and wants to fight them – until they nearly kill him. It's possible there was a bit too much of the La Mancha wine at play. Spanish vines fight for their survival in rugged landscapes, battling fierce drought and rough soils. But they fight well.
Epicurean profile
Rating