 Merlot Napa Valley 2020
Napa Valley, Duckhorn Vineyards, 750 ml
Exclusivity Baur au Lac Vins
Gift box available!
In stock
Article nr. 50100720
Items available in the stores
Gift box available!
Description
Inspired by a visit to Bordeaux, Dan Duckhorn produced his first vintage of Duckhorn Vineyards Napa Valley Merlot in 1978. Highlighting Estate vineyards and prime sites of the Napa Valley, this Merlot reflects the diversity of the valley's appellations. Blending with a small amount of Cabernet Sauvignon adds notable depth and structure to the Merlot, enhancing the distinctive flavours of black cherry, plum and spice. The nose reveals vibrant aromas of redcurrant, ripe plum, black raspberry, cherry and sweet baking spices with hints of tea leaves and cocoa. The palate is rich, with silky tannins and flavours of ripe red berries, pie crust and fig compote ending in an elegant finish.
Attributes
| | |
| --- | --- |
| Origin: | USA / California / Napa Valley |
| Grape variety: | Merlot, Cabernet Sauvignon, Cabernet Franc, Petit Verdot |
| Ripening potential: | 2 to 5 years after harvest |
| Drinking temperature: | 16 to 18 °C |
| Food Pairing: | Hot Asian dishes, Roast veal with morel sauce, Rabbit ragout with olives, Spicy hard cheese, Mushroom ragout |
| Vinification: | fermentation in wooden barrel, soft pressing |
| Harvest: | hand-picking, strict selection |
| Maturation: | in used barriques |
| Bottling: | filtration |
| Maturation duration: | 15 months |
| Volume: | 14.5 % |
| Note: | Contains sulphites |
Producer
Duckhorn Vineyards
Co-founded by Dan and Margaret Duckhorn in 1976, Duckhorn Vineyards has spent nearly fifty years establishing itself as one of North America's premier producers of Napa Valley wines.
From its modest first vintage of 800 cases of Cabernet Sauvignon and 800 cases of Merlot in 1978, to its addition of Sauvignon Blanc in 1982, Duckhorn Vineyards has cultivated a tradition of quality and excellence that continues today, making Duckhorn Vineyards one of the most renowned producers of Bordeaux varietal wines.
Fundamental to this tradition was the early decision to focus on the production of premium Merlot. Although many Napa Valley wineries used Merlot as a blending grape in the late 1970s, only a few spotted its potential as a wine in its own right. Dan Duckhorn, a huge fan of Merlot since his travels to Saint-Émilion and Pomerol, felt that this elegant grape variety was underestimated in North America. In the late 1980s, the Duckhorns began acquiring more vineyards in acclaimed areas of the Napa Valley. Today, the Duckhorn Napa Valley Estate Vineyard portfolio comprises of nine unique vineyards, including St. Helena, Yountville, Calistoga and Howell Mountain. Each of them is growing Merlot alongside other grape varieties such as Cabernet Sauvignon, Cabernet Franc, Petit Verdot, Sauvignon Blanc and also Chardonnay, whose different characteristics reflect the variations in soil, terrain, microclimate and exposition. In 2001, the traditionally styled Estate House was built in beautiful St. Helena with stunning views of the surrounding vineyards.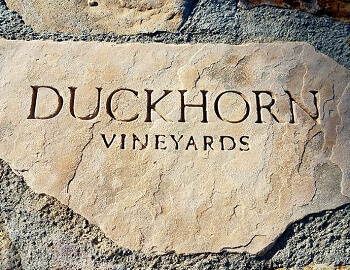 Grape variety
Merlot
Cabernet Franc
Cabernet Sauvignon
Petit Verdot
Region
California
California: Lots of fruit and ripe tannins
Around 90 percent of the wine produced in the USA comes from California. The Napa Valley, situated roughly 100 kilometers north of San Francisco, is the most prominent wine region in the western hemisphere. California vintners first caused an international sensation with Chardonnay and Cabernet Sauvignon. Today, however, superior wines are also produced from Pinot Noir, Syrah and other varieties. California's wine country shows more variety today than ever before.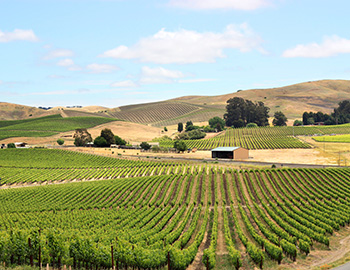 Country
USA
The United States is the third-largest nation on the planet in terms of both land area (after Russia and Canada) and population (after China and India). Every conceivable climate zone can be found in the US, from hot deserts to arctic frost. Thanks to immigration from all over the world, the US is probably the most multicultural country on the planet. Thus it has the ideal conditions for producing internationally recognized wine.
Epicurean profile