 Louro do Bolo 2021
DO Valdeorras, Rafael Palacios, 750 ml
Exclusivity Baur au Lac Vins
Gift box available!
In stock
Article nr. 13014721
Items available in the stores
Gift box available!
Description
Exuberantly, this Godello displays exotic fruits such as carambola and passion fruit, herbs and white pepper, honey and almonds. It beguiles the nose with its pronounced florality and the palate with its delightful palate with its wonderfully juicy acidity and mineral components. Its full-bodied taste lasts long on the finish.
Attributes
| | |
| --- | --- |
| Origin: | Spain / Galicia / Valdeorras |
| Grape variety: | Godello, Treixadura |
| Ripening potential: | 1 to 3 years after harvest |
| Drinking temperature: | 10 to 12 °C |
| Food Pairing: | Oysters, Giant crevettes, grilled langoustines, Mussels au gratin, Vegetable flan, quiche |
| Vinification: | fully destemmed, short must fermentation, soft pressing, biological acid degradation in barrel |
| Harvest: | hand-picking |
| Maturation: | in large wooden barrel/foudre, bâtonnage |
| Bottling: | filtration |
| Maturation duration: | 4 months |
| Volume: | 14.0 % |
| Note: | Contains sulphites |
Producer
Bodega Rafael Palacios S.L.
He wanted to prove to the world that he could produce the best white wine in all of Spain -- and he succeeded!
A migrant from Rioja, Rafael Palacios came to Valdeorras and quickly made a name for himself there. He regularly proved his worth in his family home of Palacios Remondo. In 2004, he founded his own vineyard in a northwestern nook of Spain, at the centre of Galicia, in the remote Valle del Bibei. Meanwhile, his brother Álvaro assumed the management of the vineyard in Rioja.
In light of the autochtonous godello grape's potential, Rafael was convinced he could use it to produce world-class wines from the very beginning. Little by little, he purchased parcels stocked with old vines -- locally referred to as sortes. Sortes found in elevated, north-facing locations caught his attention in particular. These yield fresh, mineral, and well structured wines. The oldest location is Sorte Antiga, planted in 1920. The Valle del Bibei in the parish of O Bolo is the highest located area of Valdeorras and is situated 680 to 740 metres above sea level. The ground, which developed through the erosion of granite, is barren with a sandy surface.
By now, Rafael is faced with hard work on 30 hectares spread over 30 vineyards, since the mostly abandoned sortes need to be maintained, the walls must be repaired, the grounds must be vitalised, and the neglected vines must be cosseted up. While doing this, he applies organic and partially biodynamic methods of cultivation.
Louro do Bolo stems from various parcels. The Godello is refined with 6% of the indigenous Treixedura and fermented and developed in large 3000 litre wooden barrels. After having sampled this wine, you will be ready to get to know the As Sortes, which was hailed as the best white wine of Spain. However, Rafael Palacios does not simply sit on his laurels. His latest attempt, called Sorte O Soro, has taken over this title and sees its place along the biggest names of the world of white wines.
Grape variety
Godello
Mentioned by roman scholars
This white autochthonous variety from Galicia can look back on a long tradition. The Roman scholar Pliny the Elder (23-79 CE) even mentioned Godello in his encyclopedic work on natural history. He associated the vine with the Bergidum Flavium region, which today is the Bierzo wine-growing area.
For a long time, the power resting in the Godello was disregarded in favour of other grape varieties. But in the 1970s, a few avid vintners discovered its potential, and since then Godello has gained ever more attention and importance, and its vineyard area is continually expanding across all of Spain.
Treixadura
Late ripe, therefore stong
The white Treixadura comes from the Portuguese Douro, and is one of the main varieties of this picturesque region. This grape's potential has also been recognized in Spain, however, and its area of cultivation is constantly expanding.
Its worldwide cultivation area is just over 2,000 hectares.
Treixadura matures rather late and produces low yields, but as a result its wines are extremely fragrant, aromatic, full-bodied and high in alcohol. Hence, the juice of Treixadura is usually blended; in Spain, liqueur wines are often produced from it
Subregion
Valdeorras
Valdeorras: a hint of Burgundy
In the western foothills of the Cantabrian Mountains, under the influence of the cool air of the Atlantic, wholesome white wines with seemingly Burgundian finesse have been produced for several years. The basis for this white wine wonder in the small but beautiful Valdeorras wine-growing region is the Godello variety. Thanks to new plantings and the restoration of old parcels, the quality of wines here has only increased in recent years. The top crus are increasingly aged on the fine lees.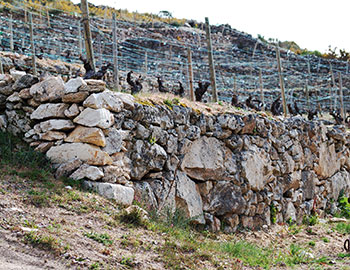 Region
Galicia
Galicia: shaped by the cool Atlantic
Situated in the far northwest of the Iberian Peninsula, Galicia is like a tip which pushes west toward the Atlantic Ocean, north of Portugal. In keeping with this exposed location, wines made here, with their fresh, straightforward character, depart strikingly from the general style of Spanish wines. With four cultivation areas with DO status, Galicia is drawing noticeably more international interest. White wines from autochthonous varieties are mostly produced here.
Country
Spain
Spain – Variety and perfection
"Somewhere in la Mancha, in a place whose name I do not care to remember...," begins Don Quixote's odyssey.
The most famous part is definitely when Don Quixote thinks windmills are his enemy and wants to fight them – until they nearly kill him. It's possible there was a bit too much of the La Mancha wine at play. Spanish vines fight for their survival in rugged landscapes, battling fierce drought and rough soils. But they fight well.
Epicurean profile