 Chardonnay La Carrière 2018
AVA, Peter Michael Winery, 750 ml
Assortment Baur au Lac Vins
Gift box available!
In stock
Article nr. 16018718
Items available in the stores
Gift box available!
Description
The steep and rugged terrain of the La Carrière vineyard produces fruit with a great concentration of flavor and aroma. Typically, this wine offers the most lean, citrus-like fruit profile of their four single vineyard Chardonnays, along with a vivid minerality that evokes nuances of sea salt and wet stones. La Carrière is named for the steep, rocky and shallow soils found at the high elevation and the vineyard's distinctive bowl-shaped top section. Terroir-driven minerality remains the hallmark of this vineyard, with aromas of brioche, gingerbread, almond, royal jelly, vine blossoms, jasmine, hazelnut and Williams pear. The nose is dominated by aromas of mandarin orange, acacia, hazelnut and grapefruit. Accents of orange blossom, acacia and vanilla complete the elegant bouquet. Citrus oils, white peach and lemon highlight the minerality. Wonderfully concentrated and elegant on the palate, the wine is sculpted, rich, intense and creamy. La Carrière is enjoyable now and will continue to develop for a decade or more.
Attributes
| | |
| --- | --- |
| Origin: | USA / California / Napa Valley |
| Grape variety: | Chardonnay |
| Ripening potential: | 2 to 15 years |
| Drinking temperature: | 10 to 12 °C |
| Food Pairing: | Grilled fish, Wild fowl, White cheese |
| Volume: | 14.5 % |
| Note: | Contains sulphites |
Producer
Peter Michael Winery
In the 1970s, Sir Peter Michael came to California as a young engineer and discovered the emerging wine world of California, with some excellent names already drawing international attention.
This awakened his desire to try something new. The search for a suitable piece of land ended in the secluded Knights Valley on the western slope of Mount St. Helena, in the east of Sonoma County, north of Napa Valley. The first vines were planted in 1983. His son Paul was helping out at the time and was full of enthusiasm, although the rows of vines were extremely difficult to set up on the very steep (inclines of up to 40%), stony layers of primarily volcanic rock. Later, Sir Peter was able to buy more plots of land on the coast and in Oakville, in Napa: Fort Ross-Seaview, with perfect growing conditions for Pinot Noir, and Au Paradis, planted with Cabernet Sauvignon and Cabernet Franc.
Grape variety
Chardonnay
Hardly any variety of vine shows such a broad spectrum of quality as the Chardonnay. Its wines range from faceless neutrality to breath-taking class. It is an extremely low-maintenance vine, which explains why it is grown around the world – even in places where it probably should not be. The aromas of the Chardonnay variety are not very pronounced: a bit of green apple, a little hazelnut; in warmer latitudes, also melon and exotic fruits. The wines are often defined by maturing in casks. They develop more or less subtle notes of butter, toasted bread and vanilla. The grapes achieve their highest expression in their region of origin, Burgundy. Its heart beats in the Côte de Beaune: one might think of the plant growth of Meursault or Puligny-Montrachet. With their finesse and complexity, they can survive for decades. Chardonnay also achieves first class in some Blanc-de-Blancs champagnes. It additionally yields great wines in the Burgundian Chablis, and increasingly in Australia and Chile. A simple rule of thumb for pairing with food: When butter and cream are involved, you cannot go wrong with Chardonnay.
Region
California
California: Lots of fruit and ripe tannins
Around 90 percent of the wine produced in the USA comes from California. The Napa Valley, situated roughly 100 kilometers north of San Francisco, is the most prominent wine region in the western hemisphere. California vintners first caused an international sensation with Chardonnay and Cabernet Sauvignon. Today, however, superior wines are also produced from Pinot Noir, Syrah and other varieties. California's wine country shows more variety today than ever before.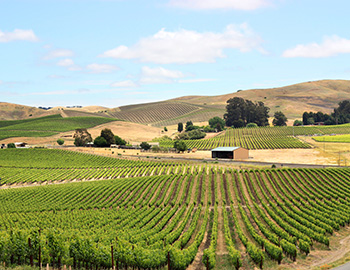 Country
USA
The United States is the third-largest nation on the planet in terms of both land area (after Russia and Canada) and population (after China and India). Every conceivable climate zone can be found in the US, from hot deserts to arctic frost. Thanks to immigration from all over the world, the US is probably the most multicultural country on the planet. Thus it has the ideal conditions for producing internationally recognized wine.
Rating