 Schwarz Rings
EGW, Weingut SchwarzRings, 2012
In stock
Article nr. 40039712
| | |
| --- | --- |
| Grape variety: | Portugieser, Zweigelt, Blaufränkisch |
| Producer: | Weingut Schwarz Rings |
| Origin: | Red wines / Germany |
Description
This wine originated as an idea of the three friends on Sylt: as an experiment across national borders between the Rings brothers from the Palatinate and Hans Schwarz from the Burgendland. This Cuvee is an enormously complex wine with its lush aromas of berries, cherries, plums, chocolate and herbs. It needs air to unfold. On the palate, you can feel the sun, the fine wood and the extract. A wine with a lot of drinking fun and juiciness!
Attributes
| | |
| --- | --- |
| Origin: | Red wines / Germany |
| Grape variety: | Portugieser, Zweigelt, Blaufränkisch |
| Serving temperature: | 16 to 18 °C |
| Food pairing suggestion: | Châteaubriand, Filet Wellington, Spiced grillades, Saddle of lamb fillet with herb jus, Roasted lamb gigot, Roast saddle of venison |
| Harvest: | strict selection, in small boxes, hand-picking with simultaneous grape sel |
| Maturation: | in new barriques |
| Bottling: | no filtration |
| Maturation duration: | 22 months |
| Acidity: | 5,1 g/l |
| Volume: | 13.5 % |
| Residual sugar: | 0,1 g/ l |
| Note: | Contains sulphites |
Countries
Germany
Germany – Into the elite the hard way
Sitting in the heart of Europe, the hilly, lake-dotted landscape of Germany provides ideal, fertile soil for the most diverse vine varieties. From Albalonga to Zweigelt, over 140 different grape varieties are grown on about 100,000 acres, cared for by nearly 50,000 vintners. Most of these vintners are young, modern, internationally trained, inquisitive and urbane. It is hardly surprising, then, that German wine has a good reputation well beyond the country's borders.
Grape varieties
Blaufränkisch
The Blaufränkisch fits in comfortably in Burgenland and in neighbouring Hungary. Caressed by the warm winds of the Pannonian Plain and protected by hills and mountains, the grapes can fully ripen. They yield fine, dark-berried, well-structured red wine. Depending on taste, the vintner presses them lightly and fruitily, or gathers them in wooden casks into firm, peppery wines. They are predestined for ripeness, and pair excellently with meat and game dishes. The name of this wine is deceptive: in the middle ages, grapes from southern Germany were called "Frankisch". They were seen as particularly sophisticated. The Blaufränkisch, however, is a native of Austro-Hungary. In Hungary, where it is called Kékfrankos, it even occupies twice as much vineyard space as in Austria. Some producers make wine on both sides of the border.
Portugieser
The source of this variety source is not entirely understood.
According to the story, these shimmering blue berries get their name because they found their way to Austria in 1772 from the historic Portuguese city of Porto.
Historical documents relate that "The Earl of Fries was the Austrian emissary in various countries, including in Portugal. He had vineyards on his property in Vöslau. In 1772, he brought varieties from abroad to Vöslau, allowing them to grow in his vineyard."
Curiously, however, this vine is completely unknown in Portugal, and so it is suspected to have come from Austria or Hungary.
Portugieser is characterized by its low demands in terms of climate and soil conditions. It also reliably produces high yields. Planted on around 4,500 hectares, this vine is one of the most important red wine grape varieties in Germany today.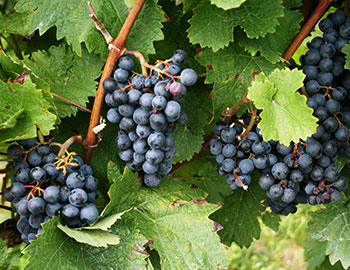 Zweigelt
Flatterer with a backbone
The Zweigelt is an Austrian original. Fritz Zweigelt crossed it in 1922 at the Klosterneuberg Orchard and Viniculture School ("Obst- und Weinbauschule Klosterneuburg") from the red varieties Blaufränkisch and Saint Laurent. Zweigelt's main quality is being marvellously drinkable. With its exuberant berry fruit and juicy structure, it fits like no other to the pleasurable lifestyle of our Austrian neighbours. One thinks, for example, of a hearty Brettjause in the wine tavern. It can, however, also assemble well with other grape varieties, and expand in wooden barrels for more backbone. No wonder it is the most planted grape variety in Austria. One curiosity: the Japanese island of Hokkaido grows 230 hectares of Zweigelt.
Epicurean profile