Barolo Rocche dell'Annunziata 2019
DOCG, Rocche Costamagna, 375 ml
Exclusivity Baur au Lac Vins
Gift box available!
In stock
Article nr. 35011319
Items available in the stores
Gift box available!
Description
Intense garnet colour with brilliant hue when young. A harmonious and expressive bouquet of plum, vanilla and light tobacco, with touches of violet . The mouthfeel is both elegant and delicious thanks to its balance of tannin and concentration, ripe fruit, and beautiful aromatic expression. This wine has real style.
Attributes
| | |
| --- | --- |
| Origin: | Italy / Piemont / Barolo |
| Grape variety: | Nebbiolo |
| Label: | Vegan |
| Ripening potential: | 3 to 10 years after harvest |
| Drinking temperature: | 16 to 18 °C |
| Food Pairing: | Brasato di manzo al Barolo, Wild fowl, Spicy hard cheese, Tagliatelle al tartufo |
| Vinification: | fully destemmed, fermentation in steel tank, Punching down |
| Maturation: | in large wooden barrel/foudre, some months bottle storage before sale |
| Maturation duration: | 24 months |
| Volume: | 14.5 % |
| Note: | Contains sulphites |
Producer
Rocche Costamagna / Alessandro Locatelli
The wines of Rocche-Costamagna are a result of the perfect interplay of geographical location, meticulous care both in the vineyard and in the cellar, and decades of experience.
The term "Rocche" usually refers to a natural hilly landscape. In this case, it refers to a privileged wine-growing area, the family's historic cru, called "Rocche dell'Annunziata" (covering 6 of the 14 hectares of the family estate).
"Costamagna" is the family name of the winery owners in La Morra, where high quality wines have been produced and distributed for over 160 years. The evidence for this centuries-old tradition is a document dating back to 1841: a retail licence for the wines from the estate's own vineyards. Since the late 1960s, the business has been run by Claudia Ferraresi, the granddaughter of the widow Costamagna, accompanied by her husband Giorgio. Today, their son Alessandro Locatelli is in charge, assisted by agronomist Gian Piero Romana and oenologist Giuseppe Caviola.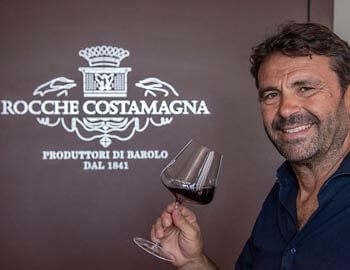 Grape variety
Nebbiolo
It's the king of Piedmont: the most sought-after wines come from Nebbiolo. It reaches its highest expression in Barolo and Barbaresco. Its acidic, tannin-rich wines in its youth are often unapproachable. With maturity, however, it develops an ethereal bouquet of cherry, liquorice, violet and rose, as well as truffles, tar and forest floor. Nebbiolo takes its name from the Italian "Nebbia", meaning fog. This not because of the weather in Piedmont, but due to the whitish film on the ripe, red berries. It was first mentioned by this name in the 13th century. Much like the Pinot noir, Nebbiolo can precisely reflect its terroir, but only if it is really pleased with where it is. It likes cool climates and calcareous soils. Attempts have been made to transplant it, for example, to California, but the results were disappointing. It feels most comfortable in the hills of northern Italy.
Country
Italy
Italy – Where wine is a way of life
The Italian wine regions are extremely diverse, and this is made clear in their wines. Established varieties such as Merlot, Syrah, and Sauvignon can be found on just 15 percent of the total vine growing area. The remaining 85 percent is reserved for autochthonous, indigenous varieties. More than 2,000 different grape varieties are grown under diverse conditions and pressed with various techniques into wines that reach the top tier of the international wine market.
Epicurean profile