 Canforrales Clásico
DO La Mancha, Campos Reales, 2019
In stock
Article nr. 37082719
| | |
| --- | --- |
| Grape variety: | Tempranillo |
| Producer: | Bodegas Campos Reales |
| Origin: | Spain / La Mancha |
| Other vintages: | |
Description
Lots of wine at a surprising price! The aroma variety and intensity perceived in the nose continue on the palate. Aromas of violets are accompanied by those of black cherries and plums. Provence herbs and gingerbread spices are also perceptible – which is amazing for a so-called "simple" wine! Its soft, supple texture and concentrated fruit aromas make it very attractive.
Attributes
| | |
| --- | --- |
| Origin: | Spain / La Mancha |
| Grape variety: | Tempranillo |
| Ripening potential: | 1 to 3 years |
| Serving temperature: | 16 to 18 °C |
| Food pairing suggestion: | Cold fish dish, dried meat, Mild semi-hard cheese, Paella |
| Vinification: | fermentation in steel tank, cooling period |
| Harvest: | hand-picking |
| Maturation: | in steel tank |
| Volume: | 14.0 % |
| Note: | Contains sulphites |
Countries
Spain
Spain – Variety and perfection
"Somewhere in la Mancha, in a place whose name I do not care to remember...," begins Don Quixote's odyssey.
The most famous part is definitely when Don Quixote thinks windmills are his enemy and wants to fight them – until they nearly kill him. It's possible there was a bit too much of the La Mancha wine at play. Spanish vines fight for their survival in rugged landscapes, battling fierce drought and rough soils. But they fight well.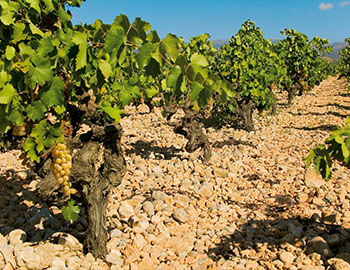 Regions
La Mancha
La Mancha: beyond Don Quixote
If you travel through the barren country of La Mancha, you will keep encountering a man who is said to have lived here more than 500 years ago: Don Quixote, the "Knight of the Sorrowful Countenance." Restaurants, streets and plazas are named after Miguel de Cervantes' fictional character. But in the largest wine-growing region in Spain, the signs point towards a change. New expertise in cultivation and processing is producing fruity reds with Mediterranean charm, along with surprisingly crisp whites.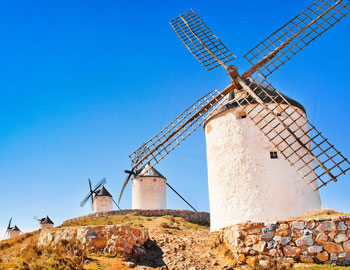 Producers
Bodegas Campos Reales
The landscape of Meseta Central stretches out endlessly to include La Mancha, the land of Don Quixote and Sancho Panza, and also Spain's largest wine region.
The heart of the Iberian peninsula is characterised by an extremely continental climate with scorching summers and freezing winters. Luckily, the scarce downpours are aptly retained by the calciferous loamy soil in order to enable the vines' survival. Quite often, these are very old, gnarled, and stunted in their growth. In order to shield the grapes from the torrid heat using their leaves, the vines still are often reared low to the ground in the traditional manner -- also known as bush vines or 'en vaso'.
Grape varieties
Tempranillo
The Tempranillo is the emblem of Spain. With its juicy cherry fruit, crisp tannins, and its notes of leather and spices, it gives the Rioja its face. In the Ribera del Duero, it is known as Tinta del país. Here it turns out focused and muscular. As it has inhabited the Iberian Peninsula for centuries, it is known under countless synonyms. Across the border in Portugal, it is called Tinta Roriz, and lends colour and body to port wine. It also plays an important role in the booming wine scene of the Douro Valley. The Tempranillo owes its name to its early maturity – "temprano" in Spanish means "early". Tip: do it like they do in Spain and enjoy it with lamb.