 Tarlant BAM! Brut nature
AOC Champagne
750 ml
Selection Baur au Lac Vins
30
In stock
Article nr. 60046700
Description
BAM! - Pinot Blanc, Arbanne and Petit Meslier - these almost forgotten old grape varieties give this unique champagne its name and also its extraordinary and lively character. Mineral and fruity on the palate, with a slightly salty finish that lingers for a long time.
Attributes
| | |
| --- | --- |
| Origin: | Frankreich / Champagne |
| Site / vineyard: | Lieux-dits Fours à Chaux-les-Sables |
| Grape variety: | Pinot blanc, Arbanne, Petit Meslier |
| Ripening potential: | 1 to 5 years |
| Serving temperature: | 8 to 10 °C |
| Vinification: | bottle fermentation |
| Harvest: | hand-picking |
| Volume: | 12.0 % |
| Note: | Contains sulphites |
Countries
France
France – Philosophy in a bottle
According to French philosophy, wine should be an expression of the soil and climate. They use the word "terroir" to describe this. Terroir makes every wine different, and many especially good. French wine is regarded worldwide as an expression of cultural perfection. The French believe that humans are responsible for the quality of the berries, the vine variety for their character, and nature for the quantity. This philosophy can be expressed succinctly as: "the truth is the vineyard, not the man."
Producers
Tarlant
The Tarlant family can look back on a long family history, one that can be traced back to 1687. For almost three and a half centuries they have devoted themselves to viticulture in the Marne Valley in the Champagne region. But it was only after World War I that the first hugely successful Champagne Tarlant was created. Today, brothers Jean-Mary and Benoît operate the family-owned company.
With a total of 14 hectares spread over 55 plots, the winery is very small compared to other Champagne houses. Tarlant is a real insider tip, featured on the wine list of some of the world's most prestigious restaurants, and it was not easy for Baur au Lac Vins to come by a few bottles. These sparkling wines are unusual, but all the more fascinating for it.
Vigne d'Antan, Vigne d'Or and La Vigne Royale belong to the winery's limited premium range. The grapes each come from a particular location. The Chardonnay vines for the Vigne d'Antan are authentic, meaning they are ungrafted. The Vigne d'Or is made from 100% Pinot Meunier, which is really unusual in the Champagne region, and can be described as a rarity. La Vigne Royale is a pure Pinot Noir.
The hand-picked grapes are gently pressed in the traditional basket press. The fermentation and maturation of the basic wines are carried out in barrels. Tarlant attaches great importance to a particularly long bottle ageing on the yeast, so the flavours can fully develop. This can easily take seven to ten years. These Champagne wines are always dry and receive little or no dosage.
Even for the Champagne connoisseur, these hidden gems will make for a most unusual discovery!
Grape varieties
Pinot blanc
Lively sparkling, substantial white
The Pinot blanc has the same genetic fingerprint as Pinot gris and Pinot noir. They only differ in colour. The mutation from red to white was noted over a century ago in Burgundy. Suddenly, berries of differing colorations were hanging on the same stock. The bouquet of the Pinot blanc is fresh and floral with notes of citrus, apple, pear and apricot. In Alsace, it yields fragrant sparkling wines; it also enters into some champagnes. Vintners in Germany and Austria produce an abundance of Pinot blanc with a good deal of substance, blending and backbone. Representatives from Switzerland demonstrate a similar profile. There, the Pinot blanc grows mainly in Valais, Vaud and in Grisons.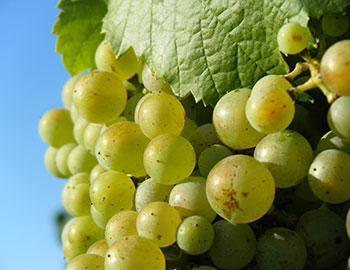 Petit Meslier
Adored by Lukullus and gourmets all over the world
This white grape variety originated in the Champagne region, and until the 19th century it was also common there. But the vines of Petit Meslier were almost entirely uprooted and replaced with the less pretentious, less demanding Chardonnay vine.
Today, Petit Meslier is only an "enthusiast's grape." This is mainly due to its very modest yields of around 35 hectoliters per hectare.
About three hectares of Petit Meslier remain today. The variety is a cross between Savagnin and Gouias Blanc.
Arbanne
This white, autochthonous variety is probably one of the rarest in the world. It originated in the Champagne region, where it was slightly more widespread in the 19th century. The grapes demand the sunniest of locations, yet ripen very late and are low-yielding. They can even rest for two years without being at all mature. Because of this eccentricity, only a single hectare in Champagne is planted with Arbane, with few new plantings.
The INA (Institut national de l'origine et de la qualité) has undertaken the noble task of saving this historical vine from extinction – a difficult task given the convoluted and sometimes dubious rules of French wine law.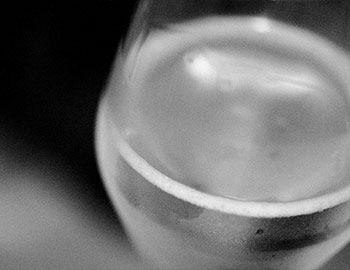 Rating