Prosecco Rosé brut millesimato 2022
DOC, Paladin, 750 ml
Exclusivity Baur au Lac Vins
Gift box available!
In stock
Article nr. 60407722
Items available in the stores
Gift box available!
Description
The bouquet of the Prosecco Rosé is generous, with floral and fruity aromas reminiscent of white, fragrant flowers and bright red cherries, peaches and pink grapefruit. The palate is enveloped by a fine, creamy mousse. The juicy acidity and fine astringency set a counterpoint. Delicate and with a wonderful triology of sweetness, acidity and astringency, this cuvée of Glera and Pinot Nero is a pleasure to drink. Aromas of cherries, tangerines, ginger and orange zest as well as fine butter biscuits surround the palate. Rosé and a little bit of Italianitá makes life just easier! Our tip: try it with bruschetta or your favourite pizza.
Attributes
| | |
| --- | --- |
| Origin: | Italy / Veneto |
| Grape variety: | Glera, Pinot noir |
| Label: | Vegan |
| Ripening potential: | 1 to 3 years after purchase |
| Drinking temperature: | 6 to 8 °C |
| Food Pairing: | Italian antipasti, Apéro pastries, Fruit tart, Giant crevettes, grilled langoustines |
| Vinification: | fermentation in steel tank, pressed carefully and immediately |
| Harvest: | hand-picking |
| Maturation: | in steel tank, on the yeast |
| Volume: | 11.5 % |
| Note: | Contains sulphites |
Producer
Paladin
The vineyards of the Paladin winery are located in the border area between the Eastern Veneto and Friuli, where wine was already being grown in Roman times. At that time, the wines of this area were shipped in amphorae from the nearby sea ports to Rome, as reported by the historian Pliny.
The company was founded 50 years ago by Valentino Paladin, and today is jointly managed by his three children: Lucia, Carlo and Roberto.

The calcareous clay soils were formed about 20,000 years ago, after the last ice age. At a depth of 50 to 100 centimetres, one runs into limestone, the so-called Caranto, which gives the wines their body, richness and flavour intensity. The region has a rather mild climate. To the north, the Dolomites and the Alps provide protection from the cold; to the south-east, the Adriatic has a moderating influence.
Grape variety
Glera
Do you think you recognise these grapes? You probably do, albeit under a different name. Previously it was called Prosecco, and had been since the 18th century. It gladly shared this description with the sparkling and pearl wine produced from it, until its producers laid claim to the name exclusively for their products. They did this so winemakers outside the Prosecco area in Veneto could not produce sparkling wines with the name Prosecco. Before, they could do it quite easily, just by using the right grape and writing the name on the label. Therefore, the Prosecco grape variety has been called Glera since 2010. This is an old synonym for Friuli. One thing has not changed: the Glera grape remains the top dog in the Prosecco area. It provides subtly flowery, lemony white wines which improve further with interaction with carbon-dioxide.
Pinot noir
No other variety expresses its terroir as precisely as Pinot noir. It is a sensitive, fragile grape. But when it succeeds, it gives the world some of its very greatest wine plants. It especially excels in Burgundy, where it has been cultivated for at least 700 years. Even in the middle ages, it was considered so precious that it was kept separate from other grapes so as to not diminish its value. The finest examples are delicate and fragrant with aromas of cherries and red berries. With maturity, notes of forest floor, leather and truffles enter as well. An irresistible fruity sweetness still shines through, even after several decades. The Pinot noir does well in cool locations: in Switzerland and in Germany, where it is known as Blauburgunder and Spätburgunder respectively; in Alsace and in South Tyrol, in Oregon, New Zealand and Tasmania. Not least, it yields fantastic champagnes. It is a wonderful culinary companion. With its soft tannins and charming bouquet, it meshes with everything, from Güggeli and cheeses to fried fish.
Region
Veneto
Veneto: land of the Amarone and Prosecco
Veneto stretches from the Alpine foothills, through the flat Po Valley, to the Gulf of Venice on the Adriatic coast. Two types of wine in particular have been able to celebrate spectacular successes here in recent years: Amarone growths impress with their opulent body and force, while the cheerfully bubbling Proseccos please with their fruity, grape freshness. But the region also produces drinkable everyday wines, including the white Soave and the red Bardolino.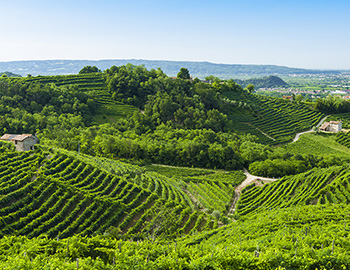 Country
Italy
Italy – Where wine is a way of life
The Italian wine regions are extremely diverse, and this is made clear in their wines. Established varieties such as Merlot, Syrah, and Sauvignon can be found on just 15 percent of the total vine growing area. The remaining 85 percent is reserved for autochthonous, indigenous varieties. More than 2,000 different grape varieties are grown under diverse conditions and pressed with various techniques into wines that reach the top tier of the international wine market.
Epicurean profile