 Baron Sigognac Millenium
Armagnac, 700 ml
Exclusivity Baur au Lac Vins
Gift box available!
In stock
Article nr. 62175700
Items available in the stores
Gift box available!
Description
A minimum of 60 years in oak casks, then 40 years minimum in demi-johns !! In Armagnac, legend has it that, one day long ago, Baron de Sigognac took all the traditional clocks out of his cellars. Fascinated by the mystery surrounding the way Armagnac ages, he had some very strange timepieces fashioned. On these clocks, the face had ten divisions instead of twelve. The seconds had become years, the big hand moved only once a decade and the hour hand marked the centuries...Baron de Sigognac had found the core of the mystery that is Armagnac... The legend adds that, with time, Baron de Sigognac came to trust only his palate for telling the age of an Armagnac. The clocks were left unwound. Baron de Sigognac had, himself, become the memory of his Armagnacs. Original-Tasting-Notes: A magnificent amber colour with elegant mahongony glints.A subtle bouquet which opens with beautiful notes of dried and crystallised fruits and vanilla highlights. On the next level, we find roasted coffee aromas and deli-cate notes of rancio.Exceptionally round in the mouth, with fantastic balance and a long, elegant fi-nale worthy of its age.Simply marvellous; an Armagnac of class and elegance, ruffled by natural scents of old oak - truly an exceptional Armagnac!
Region
Armagnac
Armagnac: high-percentage, high-standing, authentic
Gascony, in southwestern France, has retained its authentic rural charm to this day. Very similar traits are attributed to the brandy originating from here, Armagnac. While young Armagnac can taste lively and fiery, old, decades-aged selections reveal enormous finesse with unique character. Vintage bottlings are particularly exclusive – and accordingly expensive.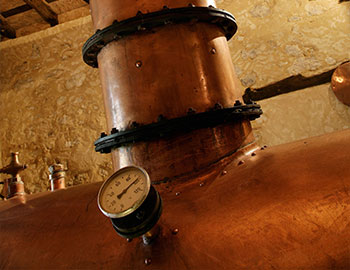 Country
France
France – Philosophy in a bottle
According to French philosophy, wine should be an expression of the soil and climate. They use the word "terroir" to describe this. Terroir makes every wine different, and many especially good. French wine is regarded worldwide as an expression of cultural perfection. The French believe that humans are responsible for the quality of the berries, the vine variety for their character, and nature for the quantity. This philosophy can be expressed succinctly as: "the truth is the vineyard, not the man."