Moscato d'Asti Barisél 2021
DOCG, Cascina Barisél/Franco Penna, 750 ml
Exclusivity Baur au Lac Vins
Gift box available!
In stock
Article nr. 12009721
Items available in the stores
Gift box available!
Description
The scent of the muscatel grape is unmistakably recognizable: passion fruit, white peach, orange flower and lavender. The delicate sweetness and the gently tickling perlage balance each other perfectly in order to bring this grape's charming aromatic potential out at its fullest. The low alcoholic level of only 5.5% vol. makes this Moscato a very light and pleasurable wine.
---
A product of the Marc Almert Selection IV
With the Marc Almert Selection, the ASI Best Sommelier of the World 2019, presents you a personally compiled selection of wines that not only touch his palate, but also his heart.
---
Marc Almert about the Moscato d'Asti Barisél
As a sommelier, you stock some wines that you know are rarely ordered in a restaurant. But you also know that these are wines that delight and excite everyone you serve them to. Moscato d'Asti is such a wine. Standing in the shadow of great sweet wines, it is often overlooked. But once it's in the glass, it's hard to keep up with the refilling: low alcohol content, beguiling fruity sweetness, animating bubbles, the whole thing uncomplicated with a screw cap. A great companion to desserts with citrus fruits, but also an insider tip as a surprising aperitif in summer. Especially from Canelli, one of the top regions of the Asti appellation.
Attributes
| | |
| --- | --- |
| Origin: | Italy / Piemont / Moscato d'Asti |
| Grape variety: | Moscato bianco |
| Label: | Vegan |
| Ripening potential: | 1 to 2 years after harvest |
| Drinking temperature: | 8 to 10 °C |
| Food Pairing: | Fruit tart, Cakes, biscuits, pastries, Panettone |
| Vinification: | fully destemmed, fermentation in steel tank |
| Harvest: | hand-picking, strict selection |
| Maturation: | in steel tank |
| Bottling: | filtration |
| Volume: | 5.5 % |
| Note: | Contains sulphites |
Producer
Cascina Barisél / Franco Penna
With just 5 hectares, Franco Penna's winery is small but exquisite. The estate near Canelli, east of Alba, comprises only the very best south-facing sites with calcareous soils. Franco's father Enrico, who bought the estate in the 1960s, obviously knew what he was doing.
Practically half of the vineyard is planted with Moscato bianco. One hectare is dedicated to Barbera, from which La Cappelletta is made, and the remaining land planted with Dolcetto and Favorita. In recent years, Franco Penna, like so many other winemakers, has adapted his winegrowing and increasingly relies on organic methods. The vineyards around Canelli are among the most valuable in Piedmont, especially because of the fragrant, finely sparkling Moscato d'Asti. Franco Penna is committed to keeping these soils alive through the appropriate cultivation.
Grape variety
Moscato bianco
Over 200 varieties have "Muscat" in their names, and many are completely unrelated. What they share is a fragrance of fresh grapes. Muscat owes its name to the intense aroma. It derives from the word "musk", and appears in documents dating from 1230. The most common representative of the Muscat line is the white Muscat blanc à petits grains. In Italy, it is known as Moscato Bianco, and in Germany and Styria as Gelber Muskateller. In Switzerland it is called Muscat du Valais. Researchers largely agree that it originated in Greece, and from there found its way via Italy to southern France. When crafted with expert hands, it turns out fresh, floral and spicy with a slightly tart note. Pressing it into high quality wines is not very easy. Sweet forms have greater renown, such as Muscat de Rivesaltes and Muscat de Beaumes-de-Venise from southern France or Muscat from the Greek island of Samos.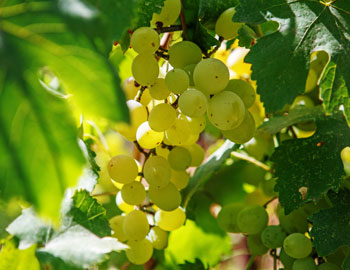 Country
Italy
Italy – Where wine is a way of life
The Italian wine regions are extremely diverse, and this is made clear in their wines. Established varieties such as Merlot, Syrah, and Sauvignon can be found on just 15 percent of the total vine growing area. The remaining 85 percent is reserved for autochthonous, indigenous varieties. More than 2,000 different grape varieties are grown under diverse conditions and pressed with various techniques into wines that reach the top tier of the international wine market.
Epicurean profile